Gigi Hadid And Zayn Malik's Styling Trick Totally Surprised Us
Splash News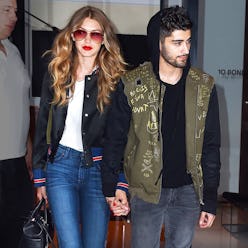 If there's any celeb couple that understands fashion, it's Gigi Hadid and Zayn Malik. The young lovebirds make headlines with their red carpet appearances (take the Met Gala, for instance), consistently set trends with their off-duty style and regularly pose for high-fashion magazines, including their latest cover, Vogue's August 2017 issue. They manage to do all this while staying in sync, with twinning hairdos and an almost unisex touch to their street-style looks.
It turns out there's a likely reason behind their harmony—that is, the two tend to raid each other's closets. In fact, the former One Directioner has admitted to borrowing one of the supermodel's Anna Sui shirts. "It doesn't matter if it was made for a girl," he attests to Vogue. It seems his lady love seconds that notion: "It's not about gender," Gigi repeats. "It's about, like, shapes and what feels good on you that day. And, anyway, it's fun to experiment."
For Gigi, that means you can wear anything you want—even if those items happen to be trends we wish would never come back (like Daisy Dukes and shoulder pads). "If you rock it, you rock it," she says in an accompanying interview for Vogue's 73 Questions.
"With social media, the world's gotten very small, and it can seem like everyone's doing the same thing," Zayn says in the cover story. "Gender, whatever—you want to make your own statement…. You want to feel distinct."
Read the rest here.