5 Stars Who Proved Going Pantless Is Such A Vibe
It also means one less step to get ready.
Gotham/GC Images/Getty Images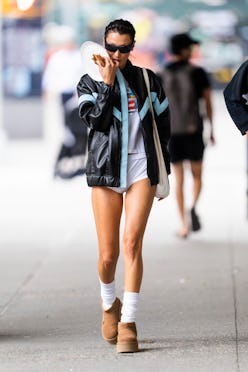 We may receive a portion of sales if you purchase a product through a link in this article.
Everyone has those "I have no idea what to wear" days. You know the routine: You're staring down a closet completely packed with clothes, but suddenly you're out of interesting formulas for putting your separates together. But what if you had the option to completely skip picking out pants or a skirt altogether? Daunting as it might sound, celebrities en mass are eschewing bottoms completely these days, and making a compelling case for the rest of us to follow suit. After all, who didn't want to copy Bella Hadid when she went out for pizza in her tightie whities and Ugg slippers last fall. This, of course, is not the type of look you'd pull out for a family dinner or your corporate office, but if you're feeling bold and looking for fresh ideas, going pantless might be a fun thing to try.
Rest assured, the style we're talking about here does not mean walking around town in your regular old underwear — it's all about choosing just the right pair of panties and picking the perfect pieces to go with them. Luckily, tons of brands are coming out with stylish briefs meant to bare some skin while out and about (see: the viral cashmere and sequin hot pants from Miu Miu's Fall/Winter 2023 collection). And there are tons of ways to style the chic undergarments. Lori Harvey, for instance, attended football player Odell Beckham Jr's birthday party in sleek high-waisted black briefs and a graphic tee. Julia Fox, of course, also had to put her edgy spin on the style — she opted for leather hot pants while promoting her book.
Take a closer peek at these looks and more star takes on the pantless trend ahead — and shop each outfit to try for yourself.
Lori Harvey
If you're just looking to dip your toe into the no-pants look, Lori Harvey's birthday party 'fit is the perfect way to go. In a high-waisted black brief, Harvey balanced out her bare legs with a sheer pair of black tights and a loose-fitting graphic tee. To make everything feel more polished, she added a sleek pair of pointy-toe booties.
Kylie Jenner
Chillier temps usually mean trousers are a must, but Kylie Jenner's Loewe outfit (worn to the brand's Paris Fashion Week show last year) proves you can still be pantless and cozy. In matching white tanks and briefs, she added a long oversized grey coat, black tights (which seem to be a frequent go-to for the briefs look), and black heels.
Julia Fox
Julia Fox never fails to put her subversive spin on every new burgeoning fashion craze. Here, she takes the no-pants look to new levels or risquéness by way of ultra-micro brown leather shorts (worn with a matching jacket, gloves, bag, and boots — of course). The color scheme screams fall, but if you want a brighter color palette, Lamarque's pool blue leather hot shorts are also an excellent way to go.
Emma Corrin
Who knew wearing no pants could look so sophisticated? Emma Corrin, a Miu Miu ambassador, wore a set from the house featuring a moss green button-up cardigan and cashmere undies while headed to the airport in Venice. They added a lace-up pair of brown loafers, which brought a surprisingly preppy vibe to a look with no bottoms. Looking for a more festive option? Miu Miu also has sparkly green briefs that have you turning heads at any upcoming holiday party.
Bella Hadid
The model-off-duty aesthetic usually features a pair of simple jeans, but Bella Hadid shows that pants aren't always the answer. All you need to recreate her outfit is a pair of white boxer briefs, a graphic tee, a boxy biker jacket, and platform Ugg-style boots — the combination is simple, yet highly memorable.