These Small Black-Owned Eyewear Brands Are Making The Industry More Inclusive
Get to know these trailblazers.
@bohten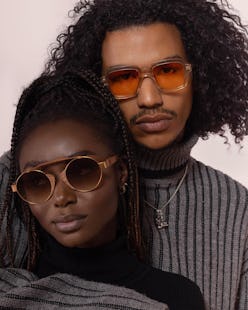 We may receive a portion of sales if you purchase a product through a link in this article.
The search for the perfect pair of sunglasses can often feel never-ending, be it due to personal dilemmas with fit, price, or design. For certain individuals in the Black community, the struggles of finding the right frames are even more magnified, with some expressing their disappointment in the lack of inclusive shade ranges and uncomfortable silhouettes. "I was looking for a pair of nude sunglasses and I was frustrated that I couldn't find one [that fit my skin tone]," recalls Marsha Douglas-Sydnor, founder of Shades of Shades, a small Black-owned eyewear brand known for its wide range of nude frames. "[The process should have] felt simple, but [I had to go to] all these different places [for options]."
Meanwhile, Tracy Vontélle Green and Nancey Harris, co-founders of Vontélle, saw a need for better-fitting eyewear in the Black community. "For centuries, [many of us] have been wearing ill-fitting glasses," Green tells TZR. "Based on our research and personal experiences, many optical wearers [have had to deal with annoyances] like the painful line across our noses, the indentations on the cheeks, or the headaches." Thus, the Brooklyn-based eyewear brand created styles with wider bridges for the nose, longer temples for behind the ears, and larger lenses for those with higher cheekbones.
The eyewear annoyances Douglas-Sydnor, Green, and Harris all experienced are not uncommon given the lack of Black representation in the overall optical industry. Shows of diversity in the space can also feel quite performative, points out Nana Boateng Osei, co-founder of Bôhten. During his visit to the Vision Expo in 2022, he noticed that many white male-founded glasses brands relied heavily on ad imagery featuring Black women and men. "It saddened me to think that out of a trade show with over 1,000-plus booths, there was really only about two [diverse brands that I saw] that were showcasing at the expo," he says.
The founders behind Vontélle, Shades of Shades, and Bôhten are certainly working to change that. Read on to learn more about how their brands are fostering a more inclusive space in the eyewear industry.
Vontélle
In 2019, Green and Harris, friends who met decades ago at Morgan State University in Baltimore, lost their sunglasses within a few months of each other. "We met maybe a day or two later, and Tracy was like, 'I want to buy glasses that look like this, and let's see if we can support a Black-owned or minority-owned business when we do it,'" Harris tells TZR. The duo searched high and low, but couldn't find the playful, printed styles they had in mind. "The glasses we saw just didn't stand out," says Harris. "That's one of the things Tracy always harps on, that all of them look very standard, very cookie-cutter." Growing tired of the less-than-exciting pairs available, the friends had an aha! moment: Why not create their dream frames themselves?
To bring their one-of-a-kind designs to life, the duo works closely with in-house graphic designer Kelsey Lovelace to create custom patterns unique to the brand, like mud cloth and Kente cloth patterns that pay homage to the duo's diverse backgrounds. Green has Cuban and Puerto Rican heritage, while Harris' parents are both from Jamaica. Additionally, they both have African heritage. The duo also loves to incorporate statement-making hues into their offerings like sunny yellow, fire-engine red, and rich blue.
In addition to design, fit was another important factor for the brand. "All the glasses [on the market] were just too tight; the way our faces are structured ... we just [have] bigger faces," Green notes, referring to some individuals in the Black community. "The temple length was never long enough, [and since] you have a little lymph node behind your ear, when the glasses rest on them, you get headaches." So, Green and Harris made styles with wider bridges, longer temples, and larger lenses. To nail the fit, they measured everyone they knew who wore glasses. "[Like] my son, who's six feet tall, because we wanted to make glasses for men too," Green explains.
Since launching in October 2020, Vontélle has quickly amassed a devoted following. "We got into Essence Black Enterprise, Forbes, and InStyle," Green shares. "It was like, 'Look at what this Black-owned brand is doing; it's focusing on diverse fits.' That helped us in 2021 to get all these eyes on us." Then, Nickelodeon came knocking in June 2021, enlisting the founders to create kids' glasses that are inspired by characters from shows like SpongeBob, Paw Patrol, Teenage Mutant Ninja Turtles, Baby Shark, and Rug Rats. "We're the first Black woman-owned company to sign a license agreement with Nickelodeon," Green shares.
Shades of Shades
When Douglas-Sydnor was diagnosed with a brain tumor in 2018, her husband surprised her with a vacation overseas. And, as mentioned above, she had trouble locating a nude pair of sunglasses that complemented her skin tone while on said excursion. "I thought about that experience during my whole trip, and it actually helped to take my mind off of my diagnosis and what was going on with me physically," she tells TZR. "I just couldn't stop thinking, 'Why is it so difficult to find my shade?' And that's where [the brand] started from."
When she began developing the nude palette, Douglas-Sydnor drew inspiration from beauty brands' foundation choices — namely, Fenty. "I wanted an inclusive spectrum of nudes to make everyone feel unique and beautiful," she says. "We had our team out of Italy create specialty Mazzucchelli acetate [a lightweight plastic material] with specific tones in mind. We then used those samples and tested with a range of participants who varied in complexions and undertones." From there, Douglas-Sydnor built the palette, and she says the brand will continue adding more options in the future. Today, Shades of Shades carries 14 nude tones, ranging from milk to mocha.
Shortly after debuting in 2019, Douglas-Sydnor says Shades of Shades blew up. "When people wear their shade of nude for the very first time, oh my gosh, it's like the best gift that I can give to them because it's like: 'I feel custom, I feel seen, I feel heard, I am important,'" she says, reflecting on the line's success. "We want the brand to be a one-stop-shop location for anyone looking for their shade of nude."
Bôhten
Nana Boateng Osei, co-founder of Bôhten, started the label because he wanted to make sustainable eyewear. And as a former environmental science and environmental studies student at the University of Ottawa, he had a good foundation of knowledge to get started. One way he's able to incorporate an eco-friendly component into the eyewear is through repurposed materials. Bôhten uses reclaimed ebony wood and walnut from Ghana, Osei's native country, to make its frames. According to the co-founder, Ghana has "a lot of very specific tree species and [they've] always been big on ebony."
"Over time we also started working with plant-based acetate that was sourced from Italy," Osei explains. "Unlike plastic, plant-based acetate is made from renewable resourced pulp." Plus, he adds that it's more durable and flexible.
Osei also noticed the lack of styles catering to the facial structures of Black individuals. Much like Green and Harris, he wanted to address this for customers. He and his brother and co-founder Nana Kwadwo Osei did research and development for nearly two years to determine the average pupillary distance (meaning, the space from one pupil to another) for people of color, which he says is 68mm versus the industry standard of 62mm.
To ensure their glasses fit, the temples of the glasses are longer, and the frames' bridges are wider than those found in traditional eyewear. "So now customers are noticing that 'Oh wow, these glasses actually fit my face better,'" Osei says.
As his business continues to grow, Osei has noticed the need for proper eye care abroad. "Rural areas of Ghana and Kenya are challenged in accessing eye care," he says. "We've worked for a few nonprofit organizations, like Sightsavers in the U.K., to consult for [and provide services in areas like these]." The two founders also created a program called Club Bôhten, where they go into communities in Ghana to provide free eye screenings. The next step? Donating eyewear to the countries that need them.