6 Black Costume Designers Who Influence What We Watch & Wear Today
From Oscar-nominated movies to Seinfeld reruns.
Eli Adé/Marvel Studios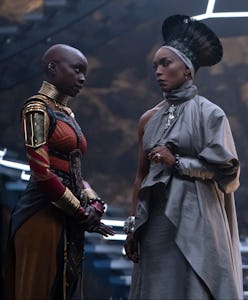 When savoring our favorite movies and television shows, we might not realize that the characters who entertain, thrill, and comfort us tell so much of their story through clothes. But that's exactly the point: The best kind of on-screen style feels so inherent and natural to a role that you may not realize the behind-the-scenes work that went into it. Creating that type of immersive experience is certainly an area of expertise for Hollywood's top notch Black costume designers, several of whom have helped shape entertainment's most memorable personas and illuminating examinations of history and society.
Many of us now know about the assassination of Chicago Black Panther Party Chairman Fred Hampton because of the "FBI Killed Fred Hampton" sweatshirt Issa Dee (Issa Rae) wears on a seminal episode of Insecure. Then there's Daniel Kaluuya, who won an Oscar for his portrayal of a 21-year-old community leader, charismatically clad in a velvety vintage jacket and a World War II military coat, in 2021's Judas and the Black Messiah. You can thank costume designers Ayanna James Kimani and Charlese Antoinette for those meaningful depictions.
James and Antoinette, along with contemporaries like Oscar winner Ruth E. Carter, nine-time Emmy nominee Michelle Cole, Till's Marci Rodgers, and Zola's Derica Cole Washington, are behind the riveting stories we watch and the thought-provoking messages that live on, long after the screens go dark. Moreover, these creative voices continue to influence what we wear and what we buy. They spark fashion trends through their moving and envelope-pushing sartorial storytelling and use their wide-reaching platforms to uplift Black-owned brands and independent designers.
Read ahead to find out how each talent puts their distinctive stamp in our favorite films and shows, and why their work continues to influence our daily lives.
Ruth E. Carter
In 2018's Black Panther, Ruth E. Carter brought the highly advanced, Afrofuturist Wakanda — which celebrates African people and cultures untouched by colonialism — to life through costume. She then made history as the first African American costume designer to win an Academy Award, for Ryan Coogler's box office hit. For 2022's sequel, Black Panther: Wakanda Forever, Carter outdid herself in creating another spectacular world: the underwater realm of Talokan, with stunning costumes honoring the oceanic elements and the Mesoamerican people. This work earned her her fourth Oscar nomination.
But that's hardly scratching the surface of Carter's prolific resume: She received her first Academy nod for 1992's biopic Malcolm X, directed by Spike Lee, who first hired the Hampton University graduate to costume design his sophomore outing, 1988's School Daze. From there, the two visionaries grew their careers together, trailblazing in social, economic, and racial commentary, and reflecting and influencing cultural movements through poignant style — vibrant prints and leather medallions celebrating African heritage and Black pride in 1989's Do The Right Thing, plus Mookie (Lee)'s Jackie Robinson Dodgers jersey portended the early-'90s rise of athletic-wear.
"I was in this zeitgeist," says Carter, who spent the decade costume designing two Lee films a year in N.Y.C., and returning to Los Angeles for pilots of definitive television shows, including In Living Color. Debuting in 1990, Keenan Ivory Wayans' groundbreaking sketch comedy series launched the careers of David Alan Grier, Jim Carrey, and future Oscar-winner Jamie Foxx.
Carter played an integral part in another cutting-edge television debut: Seinfeld, which ushered in an era of quick-witted comedy about the mundane aspects of daily life. The characters remain in our consciousness (and reruns). Carter remembers Jason Alexander asking to wear "wire rim" glasses to play chronically insecure George, who's introduced in a purple button-up that "makes you look like you live with your mother." (Burn, Jerry!) So Carter dove into her kit, filled with Lee film paraphernalia, including frames she was collecting for Denzel Washington as Malcolm X. "Then, I gave [George] the wire rims, and that stuck for his character," says Carter.
In Season 1 of Yellowstone, the genesis of the Taylor Sheridan-verse, Carter also redefined Western wear. She custom-designed Kevin Costner's wardrobe, from jeans to his streetwear-inspired blocked puffy jacket. Carter's elevated, contemporary vision for rugged Western style was a notable precursor of the 2019 cowboy style trend. Along the way, she continues to spotlight Black-owned brands and designers of African heritage, like Atlanta-based jeweler Douriean Fletcher, for customized gold armor on both Black Panther installments, and gowns by Cameroon-born Angeleno Claude Kameni in 2021's Coming 2 America.
Overall, Carter hopes her 30+-year career serves as a cinematic chronicle of the Black American experience. "There is a love journey that's happened with Black Panther and Black Panther: Wakanda Forever, but I could even take it all the way back to Do the Right Thing," she says about "traveling through the African diaspora" through her filmography, also including the 1993 Angela Bassett-starring Tina Turner biopic What's Love Got to Do With It and the 2014 Ava Duvernay-directed historical drama Selma. "I hope that's the legacy that I can leave behind: That you will understand a lot about our history. That may help us think more positively about our culture and our place in this world."
Michelle Cole
After designing In Living Color's pilot, Carter referred friend Michelle Cole to take over for the game-changing five-season run. From 1990 to 1994, transitioning from the first Bush to Clinton administrations, In Living Color skewered politics and pop culture through a fresh lens not yet seen on TV — and helped introduce musical artists, like Mary J. Blige and Kris Kross to greater viewing audiences. "We were at the front of it," says Cole.
Perhaps the show's most enduring looks were served by the iconic Fly Girl dancers, with their dynamic Rosie Perez-choreographed moves and hip-hop-meets-high fashion biker shorts, bustiers, and body-con dresses. Flash-forward: The Fly Girls alumni include Dancing With the Stars judge Carrie Ann Inaba and a Bronx-bred talent named Jennifer Lopez. In 2020, Bruno Mars and Cardi B. even paid homage to In Living Color fashion, and the famous opening credits paint splatter, in their "Finesse" video.
Since earning her first four Emmy nominations for the musical sketch series, Cole continues to utilize and interpret high-fashion costume design as positive representation. She went on to costume design definitive shows, including Martin, Brandy's Moesha pilot, The Steve Harvey Show, and The Bernie Mac Show. In 2014, she began her collaboration with style-loving Kenya Barris to outfit America's most stylish family on Black-ish. Cole, whom Barris fondly refers to as "a magic fashion elf," continues to work with the mega-producer on his designer label-stacked comedies: Yara Shahidi's spinoff Grown-ish, his semi-autobiographical #BlackAF, and the Eddie Murphy and Jonah Hill movie You People.
"The clothes were such a huge part of Kenya Barris' shows and the characters," says Cole, who received five additional Emmy noms for Black-ish. She dressed aspiring fashion designer Zoey (Shahidi) in Chloé, Alexander McQueen, and more luxe labels. Meanwhile, hypebeast patriarch Dre (Anthony Anderson) boasted Dior sweatshirts and a high-end sneaker collection.
"This is who we are," says Cole, who, along with Carter, mentors and creates opportunity for young BIPOC costume talent. "A couple of years ago, [someone via Instagram] said, 'Thank you for making Black America look so beautiful."
Charlese Antoinette
Through her costume design, Charlese Antoinette thoughtfully honors important public figures, while communicating their complicated stories and continued societal impact. In 2022's I Wanna Dance With Somebody, she celebrates the legendary career of Whitney Houston (Naomi Ackie) through recreating the singer's glamorous performance looks, while telegraphing personal struggles and familial pressures through her preferred athletic wear.
In Shaka King's Judas and the Black Messiah, Antoinette subliminally course-corrected a long-running narrative. "We made the distinct choice creatively, and also historically, to not use a lot of leather," says Antoinette. "That also helps people get into what the message of who the Panthers were, versus what negative associations people have with the Panthers based on all the propaganda that has been fed to us over the years."
Antoinette also depicted the multicultural coalition of marginalized community groups working toward racial, economic, and social justice in late-'60s Chicago through their historically accurate uniform dressing. "I get a lot of comments from people of all races about how beautiful the clothing was," says Antoinette. "Then, specifically from people in the Black community, just saying, 'Thank you for making us look so good.'"
Antoinette's characters' look so good, in fact, that co-writer/producer and director Ben Affleck called her to costume design his movie, Air, premiering on April 5. The true story chronicles Nike marketing exec Sonny Vaccaro (Matt Damon), who signed Michael Jordan to his storied shoe deal. "[Affleck] loved Judas," says Antoinette, a self-proclaimed sneakerhead. "He saw Judas and was like, 'Who did that?'"
Last year, Antoinette, whose credits include television series Raising Dion, Astronomy Club, and HBO Max's Random Acts of Flyness, also costume designed Nikyatu Jusu's social-commentary-meets-horror film Nanny. She's now prepping to film Damon's Doug Liman-directed heist movie The Instigators.
Throughout all her projects, Antoinette uplifts and supports Black-owned brands — and wants to help other costume designers to do the same. In 2021, she expanded her long-running contacts spreadsheet into the Black Designer Database, offering direct resources and consulting services to diversify costume closets. However as summer 2020 becomes more distant, Antoinette has noticed a waning in inclusivity efforts across many industries, including fashion. "It's not as front-of-mind anymore," she says, while still pushing forward. "We're just doing some fundraising and some strategic planning — and, hopefully, in the next couple of years, [the database will] be able to grow and expand in the ways that we've imagined."
Ayanna James Kimani
Over the first two-plus seasons of Insecure, Ayanna James Kimani started conversations by portraying the female friendship of two young Black professionals through their self-expressive fashion. Kimani introduced Issa in statement shirts reflecting and celebrating Black culture and community and even boosted sales for the aforementioned Fred Hampton sweatshirt by artist Dijon Samo.
Kimani shopped for Issa's closet in the Los Angeles neighborhood of Leimert Park, where the nonprofit staffer likely would have frequented. Kiman's efforts supported local businesses, while also showcasing South L.A. areas that weren't usually represented on television. "Trying to find pieces that highlight L.A., highlight Black designers and independent designers — that's where really interesting and layered wardrobe comes from," says Kimani, emphasizing that the choices need to fit the character and script and not be "performative."
She brings the same ethos to all her projects. After working with Ava Duvernay on Jay-Z's and Beyoncé's superstar-filled "Family Feud" video in 2017, Kimani re-teamed with the prolific producer for Season 4 of Queen Sugar, set and filmed in New Orleans. "It's important to shop in the area," says Kimani, who sourced from local boutiques for the Bordelon siblings.
For the titular young Black billionaire inventor in Tom Swift (Tian Richards), Kimani splurged on designer labels, like Gucci, plus Black-owned luxury brands, like Pyer Moss by Kerby Jean-Raymond and Sunni Dixon's Sunni Sunni for boots. "It's important to work with Black and indie designers because it adds a layer of storytelling that is visually intriguing and can inspire and pique someone's interest," says Kimani, citing Telfar, which she also used in All American: Homecoming. "It validates our work as Black creatives because we are the ones who set the culture with tastemakers and trend forecasters."
Kimani next explores Gen Z fashion with Disney comedy The Slumber Party, an irreverent take on best friendship after a birthday sleepover gone wrong. "I did a lot of visualizations and moodboarding to come up with a look that is so timeless," says Kimani, who sourced from independent labels, like Big Bud Press, and the Army/Navy store to embody the distinctive and oft-unpredictable Zoomer aesthetic.
A former stylist, Kimani also creatively custom-designs and customizes, like hand-painting denim jackets for fashionista Fareeda (Anjelika Washington) in Tall Girl 2. "Whatever the story is, if there's an opportunity for me to add a layer as something interesting, you're going to see that in my work," she says.
Marci Rodgers
"I just wanted to make sure that the soul of Chicago was portrayed in my costumes," says Windy City native Marci Rodgers, about her Till costumes. The Chinonye Chukwu-directed film accounts the brutal murder of 14-year-old Emmett Till (Jalyn Hall) by white Mississippi racists through the perspective of his mother, Mamie Till-Mobley (Danielle Deadwyler). Mamie's pristine head-to-toe ensembles illustrate her strength, poise, and "Black excellence," while her saturated color palette signifies the close bond with her son.
Rodgers needed to replicate ensembles for documented and critical historical moments, including Till-Mobley's black funeral dress, worn as she stands over her son's open casket. The moment, photographed in black-and-white and widely disseminated by Jet magazine, helped galvanize the civil rights movement. Deadwyler's gripping performance as Mamie earned her a Gotham Award, as well as BAFTA and Critics Choice nods. Rodgers recalls their first fitting. "I allowed her to have a moment with her clothes, particularly with the clothes that I had to recreate," says Rodgers. "I stepped back and just watched her. I saw her get sad in some moments."
For Spike Lee's 2018 BlacKkKlansman, Rodgers communicated another true — and incredible — story. In the '70s, the Colorado Springs Police Department's first African American detective, Ron Stallworth (John David Washington), infiltrated the KKK. Initially, Rodgers felt "nervous" to meet the real Stallworth before asking detailed questions about his personal style. He called her post-release to say "'Good job, kiddo.'"
The Howard University graduate first made an impression on Lee as a production assistant, under Ruth. E. Carter, on 2015's Chi-Raq. Lee also hired Rodgers for the small-screen spin-off of She's Gotta Have It, based on his 1986 film. "[It was] the biggest honor," says Rodgers, of reimagining the seminal Fort Greene, Brooklyn-based characters in 2017.
Just off completing her master of fine arts in costume design from the University of Maryland, Rodgers tackled the project by shopping local boutiques and "curated thrift stores," like artist Nola Darling (Wanda DeWise) — saving funds for her paint supplies — would have. For swoony photographer Greer Childs (Cleo Anthony), Rodgers also used Pyer Moss pieces, which felt authentic to the character. "It was extremely important to me, because Kerby [Pyer Moss] is the epitome of Brooklyn," she says.
Derica Cole Washington
Derica Cole Washington, who won a Costume Designers Guild Award nomination for Zola last year, says she is "still shocked." The honor, however, was more than well-deserved: The fashion fever dream wardrobe she created for the film brought the infamous 2015 Twitter-thread-turned edge-of-your-seat-comedy-thriller to life by way of fashion referencing Dionne and Cher in Clueless and Romy & Michele's High School Reunion.
Washington's specialty lies in contemporary costume design, which involves walking a very fine line of capturing the climate of a time period in our very recent memory while defining a character dressed in a very familiar manner. There's also the risk of looking dated in the one or more years between filming and the movie's release. "That's the hardest thing," says Washington. Shot pre-pandemic, Zola's costumes still feel thought-provoking and sartorially innovative in 2023.
Washington, whose portfolio includes Season 2 of the Debby Ryan's Insatiable, Showtime's L.A.-set Twenties, and legal drama Reasonable Doubt, took on the challenge of reimagining the 1990 Kid n' Play classic House Party for 2023. "I definitely want it to have an impact on future generations," she says, mixing recognizable and character-appropriate high-end pieces, including Dior and Alexander McQueen sneakers, with independent labels and Black-owned brands, like Samaria Leah one-of-a-kind denim.
"She has an impeccable eye," says mentor Ruth E. Carter, who incidentally designed 1991's House Party 2. Washington first met Carter via Pinterest DMs and then assisted the Oscar winner on Lee's 2014 movie Da Sweet Blood of Jesus. Washington remains in awe of Carter's three-decade-long range, from fantasy to period — and aims to dip her toe in both. "I'm really intimidated by it," says Washington. "But when the right project comes along, I will embrace it."