Edward Berthelot/Getty Images Entertainment/Getty Images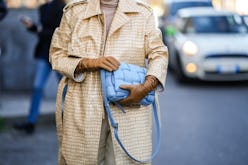 We may receive a portion of sales if you purchase a product through a link in this article.
When it comes to winter accessories, hats and scarves often get the most attention; and while I adore their layering and styling possibilities, I myself am drawn to gloves. Small but essential, the best warm gloves are made of heat-trapping materials like cashmere, wool, faux fur, lined leather, and specially designed synthetics — and they're chic, to boot.
When selecting the warmest of the warm gloves, the material is key. Gloves crafted of synthetic heat-trapping materials with insulation, like those made specifically for outdoor wear, are going to be the warmest, but gloves made of cashmere, sherpa, wool, and faux fur will also be plenty warm. And while leather gloves aren't typically known for their heat retention, a pair lined in fleece or cashmere offers you the polished look of leather while still keeping your fingers cozy.
Think, as well, about your daily activities and aesthetic preferences — if you're a frequent texter, look for a pair of gloves with touchscreen compatibility that will allow you to stay in touch without needing to expose your fingers to the elements. If you're heading out for a run, hike, or bike ride, there are slender, flexible gloves that will keep your hands warm while allowing enough flexibility to grip handlebars (or keep your phone from falling out of your hand mid-stride). In keeping with the rugged-chic theme, you'll find waterproof ski gloves that are still stylish enough to wear in the city, or gloves with workwear details that keep your mitts toasty. On the other end of the sartorial spectrum, features like faux-fur cuffs, decorative buttons, or subtle braiding ensure that you can pair your stylish winter gloves with dressier ensembles.
Baby, it's getting cold outside — better get to shopping. Scroll on for 10 of the best pairs of warm gloves that'll keep your hands toasty all season long.