When I Lost My Engagement Ring, This Bespoke Service Softened The Blow
Version 2.0 was even better than I could ever imagine.
courtesy of Katie Sturino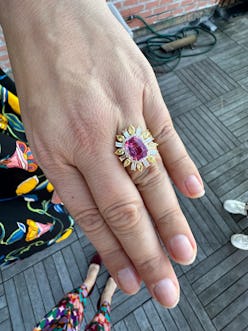 Leave it to me to lose my engagement ring. I searched everywhere, retraced my steps but nothing... and when I realized it was lost, I was absolutely devastated. Mine was a gorgeous deep blue sapphire ring from my husband John, and I was in love with it. I know material things are ultimately not what's important, but I felt like I lost a part of myself — and a symbol of our relationship — in the process. While I knew that nothing could ever replace the original, I also hated walking around without that constant reminder of John. I decided that even if I couldn't replace it, I wanted to find something just as special. Enter, Ali Galgano a.k.a. earth angel, founder, and CEO of Serpentine Jewels. If you ever have considered creating a fab, bespoke, one-of-a-kind piece of jewelry, let my experience with Ali prove that silver linings can in fact, be bling-y and gold (and pink too!).
Once we started chatting, I knew Ali was my person — I mean my jeweler. (John is my person!) I love her because not only is she a brilliant female founder with iconic maximalist style, but she is also a certified gemologist, which means she's an actual expert in the world of diamonds and precious stones I had never designed a bespoke piece of jewelry before and the process can be intimidating, especially when dealing with such high value materials. But Ali and her team at Serpentine Jewels made it fun: It was like hanging out with a new jewelry BFF. I knew I wanted a real statement ring, something unexpected, but I didn't have a set design in mind. And when I started thinking about this process, it was more about replacing what the engagement ring symbolized — not necessarily the exact ring itself.
I'm the opposite of a traditionalist, so when Ali suggested we look at different colored sapphires (versus just blue) to replace my original stone, I was game. I love color and often describe my style as "toddlercore," so I figured, "let's bring on the rainbow!" When Ali showed me some examples of pink sapphires on our first Zoom call, I literally screamed. It reminded me of how I felt when we were choosing colors for launching my Megababe brand, a line of all-natural beauty products that tackle "taboo" body issues. In short it was all me, but BETTER! It was perfect.
Deciding between different stone shapescourtesy of Katie Sturino
Ali Galgano (left) and I together
Once we settled on a pink color for the main stone — which Serpentine Jewels helped me pick from a full lineup — we talked through my personal style (toddlercore grows up?) to implement the design. Ali took the time to really listen to me and instead of being pushy or over-directing, she took tons of notes and came back with different design concepts. She even brought a full selection of stone layouts over to my apartment to try on my finger for scale. This made all the difference; it helped me visualize the final product and feel really involved in the whole process, as I was able to give feedback in real time.
Serpentine Jewels works with the best manufacturers and master craftsmen in New York City (where I live), so I love that my new ring is locally made by the best in the biz. The whole process — from our first meeting to the emerald-cut final product presented to me in Serpentine's signature green box — took about three months and I was updated regularly along the way. The pink center sapphire shows off my favorite color and is enhanced by a subtle halo of alternating diamonds set in 18k gold. Because my original engagement ring had a halo, I wanted to ensure this one did, too, as a little nod to the OG. The ring has incredible sparkle, not just because of the baguette diamond accents, but also due to the pavé band; there are literally dozens of tiny round diamonds set side-by-side. It's blinding in a good way.
The finished productcourtesy of Katie Sturino
courtesy of Katie Sturino
When I unboxed the final ring, I noticed that there was a special message inside the band. It turns out that while Ali and I had been working together, she had also reached out to John (unbeknownst to me!) to see if he wanted to include a personal message. This surprise detail turned an already unbelievable design into the most meaningful piece of jewelry, a truly bespoke work of art. Every time I look at it, I know how lucky I am, both because of my wonderful husband and because I get to wear this stunning piece of jewelry every day.
If I've learned anything during this process, it's that designing a ring is only as easy and fun as the person you choose to work with on it. And while I would never suggest losing your engagement ring, at least now, you'll know who to call if you do.