Jeweler To The Stars Neil Lane On The Past, Present, & Future Of Engagement Rings
Gregg DeGuire/FilmMagic/Getty Images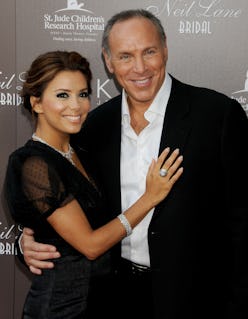 Do not talk to Neil Lane about engagement rings if you are in a time crunch. Just don't do it. The iconic jewelry designer, who's created nuptial pieces for everyone from Madonna and Reese Witherspoon to Rachel Zoe and Kate Hudson, could teach a crash course on its long storied history and the various trends over the years... if you have an hour or two to spare. Luckily, on a particularly quiet October afternoon, I just so happened to have the luxury of time, so I called on the diamond oracle himself to give me a fanciful rundown of his love affair with engagement rings as well as his thoughts on the ever-evolving sector today.
Within five minutes of speaking on the topic, I quickly realize that, with Lane, all roads lead back to vintage. You see, the Brooklyn, New York-born designer — who's always had an eye for art and colorful things that sparkle — got his start as a fledgling antique dealer. As Neil Lane folklore goes, the young entrepreneur made a fateful move to Paris, where the the world of heirloom jewelry, and rings in particular, truly opened up for him. "I saw an engagement ring in France that I was able to buy, it was only $900," recalls Lane. "I studied it and studied it, and studied it [...] the whole night. And I was [starting to] understand a lot more about design."
This initial purchase kicked off Lane's now-renowned period jewelry collection — which includes multi-million dollar gems once owned by Old Hollywood starlets like Zsa Zsa Gabor — his sharp eye for vintage pieces, and a newfound interest in design. The young entrepreneur's career shift led him to Los Angeles, where he opened his first "little jewelry counter" in the trendy Melrose district. It was there that he quickly spotted a need in the marriage market.
"People would come to my little counter and they would say to me, 'I love my husband. I hate my ring," says Lane, explaining that, in the '80s and early '90s, engagement and wedding ring options were "boring" and no where as varied as they are now. In fact, as far as Lane is concerned, they were almost an afterthought. "No one thought about a design or aesthetic or what their beloved was going to want. It wasn't in the landscape at all [...] There were rings, but they were just a round cut, a princess cut. There weren't varieties."
The jewelry aficionado rose to the challenge and began redesigning the rings that were brought into him, creating fresh pieces in unique designs and shapes. His handiwork quickly caught on amongst the city's A-list community, and by the end of the millennia, he was creating engagement pieces for young Hollywood elite. One of his first major pieces that put him on the map was the engagement ring designed for Kate Hudson in her first marriage to musician Chris Robinson. "She got this amazing detailed ring with an Asher cut diamond in it," he says. "And when you look at it, you see eternity. It was so beautiful and it was all tiny little diamonds around the gallery. It meant something, you could see details. So I started bringing all that to my rings."
This foray into design led Lane to start a few trends of his own, including the cushion cut style, which he claims no one in LA had dabbled in prior. "Rachel Zoe got her ring from me, and she wanted a whopper of a cushion," says the jewelry expert, referencing the "push present" he designed for the longtime celebrity stylist and TZR founder after the birth of her first son. "No one ever heard of cushion cuts before that. [...] So I just grew and grew and grew with that. I was inventing, I was detailing, I was putting halos here, sparks or diamonds there, looking for all these old, vintage cuts, Asher, cushion, things that no one ever heard about."
Lane's novelty status was short-lived as new opportunities in the early aughts — including his assignment as the official jewelry designer for ABC's The Bachelor franchise and a partnership with retailer Kay Jewelers — helped him "reach America" in a fresh and approachable way. "With the [Kay] collaboration, we sort of, I hate to say it, changed the face of [the] American bridal [market], where you couldn't just get a ring for someone without knowing their style of design, how they dressed, their occupation, or how they felt about themselves," explains Lane of his 15-year relationship with the global retailer. "And we started to create rings that meant something."
Considering the past 20 years has seen a colossal wave in engagement ring trends — pavé ring bands, East-West settings, Bezel settings — not to mention the meteoric growth of the market (it was last valued at 28.6 billion in 2019 and expected to hit 39.7 in 2027, one might argue that Lane was indeed a fire-starter in the space, pioneering the designs that now define the industry.
But what are his thoughts on the current state of affairs? As we all know, engagement ring trends are as fleeting as the fashion "cores" speeding through TikTok and Instagram feeds. And while celebrities and Hollywood A-listers were once the catalyst for buzzy, of-the-moment crazes (remember when everyone wanted Jennifer Lopez's baby pink diamond ring from her first engagement to Ben Affleck?), these days consumers are the driving the bus. "People are putting rings on social media, and they're getting a lot of attention," says Lane. "So everyone has sort of a part [in the trend cycle], and an opportunity to express themselves."
As for current styles, Lane says lab-grown diamonds are the hot ticket at the moment. He's even created a new bridal collection with Kay to get in on the innovation, which he says is "revolutionizing" the jewelry space. "We want to give America what they want," says Lane. "I think with Kay and their outreach, they see all this. So that's trending big time."
Other styles worth noting for 2024, according to the jewelry legend, are gold and rose gold rings, hidden halos, oval shapes, and colored stones. "I think we're going modern while definitely looking back to the past," says Lane. "You can't go forward without knowing the past."
All that said, at the end of day, a style trend will do no good if it doesn't resonate with the person wearing it. So is the case with an engagement ring — the silhouette and stone(s) you chose must be authentic to you and, most importantly, must be something that stands the test of time. "It's still going to have the component that embodies romance, love, the joining of two people, the commitment, the family, the future, the heirloom effect," says Lane. "That, I think is, if you're asking about a trend, I think that's a big one, where a ring will have much more sentimentality, much more of an heirloom effect — it's much more about passing it on."