BCBGMAXAZRIA x Maeve Reilly's Collab Has Your Next Night Out Covered
Minidresses, corsets, and cutouts galore.
@stylememaeve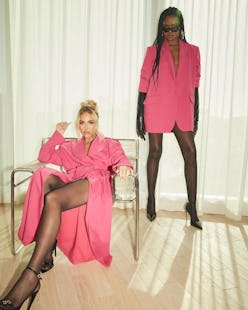 We may receive a portion of sales if you purchase a product through a link in this article.
Described as "classic European sophistication with a modern American twist," iconic brand BCBGMAXAZRIA's latest collaboration with renowned celebrity stylist Maeve Reilly is definitely doubling down on the latter. The sultry 24-piece collection encompasses all the trends that dominated TikTok and Instagram over the past year, including micro-hemlines, built-in opera glove sleeves, corset detailing, menswear-inspired suiting, and up-to-there slits.
With A-list clients who range from Hailey Bieber and Megan Fox to Priyanka Chopra and Winnie Harlow, Reilly has become known for her edgy and subtly sultry style, which is likely what made her a perfect fit for BCBG in the first place. "I just was always so captivated by the way she dressed her clients," says BCBGMAXAZRIA Group Creative Director Albino Riganello to TZR, nodding to the stylist's cutting edge approach. "That was also my direction with BCBG as well."
Reilly seconds the notion that the collab with Riganello felt seamless from day one. "I think that we both have a really specific point of view," says Reilly to TZR. "His vibe is very much his vibe and as he said, so is mine and we both obviously were hired for a reason. So knowing that, bringing our aesthetic into this already very iconic house and brand and really wanting to represent ourselves but also make it make sense, obviously, for the customer. And it was just a lot of collaboration. I mean, it was mood boards and [I offered] silhouettes that I really love and then he literally just brought them to life."
The result is a limited-edition capsule that reads very 2023 in all its nostalgic glory. Think oversized blazers with corset lacing in the back, micro-minidresses with attached opera gloves, bright fuchsia trench coats, and sleek lime green bandeau bra tops. "That suit is so cool," says Reilly, referring to the statement blazer. "It's a very me silhouette. And then, this amazing man had the idea to add the lace-up [detail in] the back, and just made it unique and special and something that I haven't seen. It's very like archived Jean Paul Gaultier probably, but not anything I've seen currently in a long time."
And while the new launch, at first glance, seems like an amalgamation of multiple "cores" that have surfaced over the past year, Reilly and Riganello are quick to dismiss the conveyor belt that is the current style trend machine. "I don't believe in trends," says the stylist. "I don't buy it. I want my girls to feel how they want to feel and if that means Barbiecore, God bless. But Megan [Fox] just likes pink and it's not that deep, so I don't know. I love that we're starting trends, but it's done completely unintentionally, literally unintentionally."
Riganello explains his goal with BCBG and, in turn this latest collab, is to always create items that serve as an investment, adding that "as a designer of luxury, I like to create things that stay in your wardrobe."
Shop the BCBGMAXAZRIA X Maeve Reilly collection below.