Fashion's Handbag Experts Share The Buzziest Styles Of Fall 2023
From sequins to animal print.
@byfar_official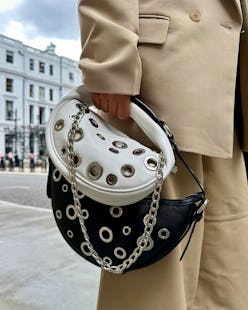 We may receive a portion of sales if you purchase a product through a link in this article.
Let me guess... your morning routine goes a little something like this: pull clothing off the hanger, step into a pair of shoes, pile on a few necklaces, and — finally — decide on a handbag that makes sense with your outfit. However, may I propose a new way of getting dressed this season? Choose your carryall first, and then coordinate your look around it. Because, honestly, the fall 2023 handbag trends are much too fun to be an afterthought — they're all worthy of a star moment.
After picking the brains of those in the know, it seems there's one style leading the pack this season. Enter, the slouchy handbag. "I think people are stepping away from the structured pieces that have dominated the fashion handbag sphere for over a decade," notes Stephanie Ibbitson, founder and designer of Sonya Lee. Why the sudden popularity? "We are spending more time outside of the home, and therefore, we need pieces that can carry a bit more; slouchy oversized pieces accommodate this without the need to be so delicate."
THEMOIRè's founders, Salar Bicheranloo and Francesca Monaco, also agree structured silhouettes are taking a back seat in favor of "soft" styles, as they phrase it. According to the duo, these up-and-coming looks rest so comfortably underneath one's arm, it's easy to forget they're there.
Below, you'll find the key designs of the season with a selection to shop for each style. Happy shopping.
Totes To Note
While teeny-tiny bags have reigned supreme in recent years, oversized shapes are now having their moment. "This year, customers have shifted towards bigger, stylish — but also practical — day bags that blend fashion and comfort together," says Mireia Llusia-Lindh, founder of Demellier London. To wit, she adds, the brand's The New York and The Vancouver Tote have taken off over the past couple of seasons.
Likewise, Little Liffner's Founder, Paulina Liffner von Sydow, can't get enough of XXL carryalls. "First of all, they are super functional, but from a fashion perspective, they also give off an attractive air of ease and nonchalance, which feels like the most important accessory this year." Furthermore, the two creative geniuses behind Hereu have thoughts on the spacious look: "There is a special interest in functional bags that can be carried around and fit the day's essentials," founders Jose Luis Bartolomé and Albert Escribano tell TZR.
Go Wild
Danielle Gumina, content editor at FASHIONPHILE, says the company's most recent report indicates that shoppers are leaning toward bold animal prints this fall and well into 2024. "It seems many brands are implementing unique animal motifs and 'wild' patterns this year," she says. "See, for example, Schiaparelli's Haute Couture Spring Summer show and Stella McCartney's Fall/Winter 2023 collection."
Let's Party
'Tis the season to tote around a party purse. More specifically, Llusia-Lindh believes the metallic trend will continue to gain traction, as well as rhinestones and embellished materials, which she says will bring joy to any wardrobe. "In addition to some core styles like our London Clutch in gold metallic," she explains, "We also have a new variation launching this winter of our Cannes clutch featuring a chunky gold chain, which I can't wait to wear."
And if you need further proof going-out styles are here to stay? Rafael Kemp, founder of Nannacay, says the brand's evening bags (namely its sequined bucket silhouette) are a big hit right now with customers.
Over The Moon
From New York to Paris, Clare Vivier, founder of Clare V., notices half-moon-shaped bags infiltrating the fashion scene. "We have a bag called the Petit Moyen, which comes with two straps. And when you wear it on your shoulder, it creates this cute little crescent [look]." Namesake designer Liselle Kiss agrees that crescent-shaped bags are on the rise, thanks to customers' growing desire for "understated luxury designs that focus on the bag's aesthetics rather than flashy logos."
Precious Cargo
Have you been loving the cargo pant trend? If yes, you'll be happy to hear that Moroz confirms that roomy pockets are entering the handbag territory, too. "This season, we're seeing this new version of cargo bags, but this is only a beginning."
Hardware Store
"Eyelets appear as a directional motif in our fall 2023 collection and are applied on bags, shoes, belts, and gloves for a rock 'n' roll rebellious touch," explains Denitsa Bumbarova, creative director of By Far. Meanwhile, if you're still not over summer's studded flat trend, here's some exciting news: Vivier tells us the edgy style will be prominent in the handbag department this fall, too.
So Nostalgic
In case you missed it, hobo bags are, once again, back in the fashion zeitgeist. "They're really '90s," notes Bicheranloo, who cites Givenchy as one label championing the silhouette. What's more, he says in the last two years, the small hobo took on the spotlight, whereas now, bigger shapes are the accessory du jour.