These Art Deco-Inspired Engagement Rings Will Delight Vintage-Obsessed Brides
The look has a century-long track record.
Courtesy of Greenwich St. Jewelers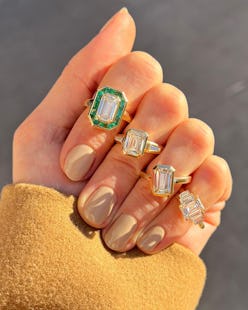 We may receive a portion of sales if you purchase a product through a link in this article.
When it comes to the engagement ring preferences of modern brides, it seems that everything old is new again... or, at least, surprisingly relevant right now. Vintage-inspired Art Deco options are popping up at established and emerging brands alike as designers increasingly focus on reimagining heritage styles from the 1920s with fresh updates. This includes the implementation of asymmetrical settings (such an unexpectedly cool choice for a classically cut stone), and use of less traditional metals, like white gold or platinum for a sleek, yet still quite timeless, look.
One reason labels are drawing on the flapper era for inspiration is that it was a time for jewelry with a striking, architectural feel. And if you apply this vibe to an engagement ring? You'll get a graphic and linear style that feels so pertinent for today. The look features geometric shapes, and surrounding diamonds either as a halo embellishment or band detail. There's also plenty of emerald or antique cut diamonds, the former of which is an especially striking choice due to its angular details and ability to highlight the color of the stone.
Below, discover and shop pieces that blend bold Roaring Twenties design with 2023 style.