Teal Treasures That Will Turn Heads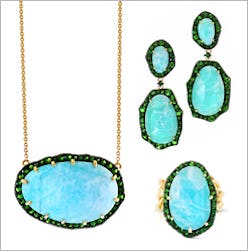 We fell hard for Phillips House jewelry when learning how to properly layer necklaces, and now the luxury label is responsible for dropping our jaws once again. Insert their just-launched Lenox Collection.
Inspired straight from the lush greens and blues of nature, this stunning series showcases amazonite and tsavorite stones shaped in unique, asymmetrical silhouettes that are reminiscent of jewels found in their pure state. Offset by luxury gold accents, the gems truly shine and together they create an ultra-glam, yet earthy vibe. Peruse the collection in full now and get inspired to work teal into your wardrobe this season and beyond!
Availability: Phillips House Lenox Collection ($1350-$5000).