The Perfect Sunglasses For Your Face Shape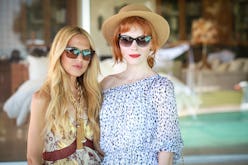 With warm weather on the horizon (in some parts of the country, it's already arrived), now is the time to lock down the one accessory vital for looking effortlessly cool: the perfect sunglasses. We tapped DVF to help us pick the style that is right for every face shape—like everything with fashion, fit is everything.
Photo: Monti Smith
Square Face Shape
The DVF aviator style works for almost everyone, making them a must-have for all fashion girls. If you have a square face, these frames are your best match. Pair them with a wide-brimmed hat and a wrap dress for a relaxed weekend look.
Heart Face Shape
It sounds counterintuitive, but if you have delicate features or a heart-shaped face, the oversized DVF sunnies are for you. Team with a bold print for an effortlessly glam look.
Round Face Shape
For a round face, the DVF sporty frames are the most flattering because they're just the right size, and they accentuate the cheekbones. Get a pair with gold hardware so you can wear them for work and play.
Oval Face Shape
It's hard to pull off large square frames, but if you have an oval face, this DVF pair is the shape for you. Opt for tortoiseshell because it literally goes with everything!