Rodger's Pick: The Left Shoe Company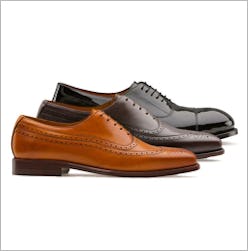 Ever dream of the perfect shoe but were unable to get your hands on it? Search no more, as the latest luxury to fall on Rodger's radar comes in the form of completely customizable soles à la The Left Shoe Company—and when we say completely customizable, we mean it!
Once stepping foot inside The Left Shoe Company, which is literally a candy store for the shoe-obsessed, start your visit with a 360-degree foot scan. This state of the art system assures precise measurements so that your new pair is fashioned to fit like a glove—pretty major, right? Build the brogues of your dreams by choosing from a batch of classic silhouettes, signature soles, colors and leathers. Before you know it, you'll be rocking the coolest kicks on the block!
Availability: Customize sleek and unique shoes at The Left Shoe Company.