The Forgotten Accessory Your Winter Outfit Needs
2014 Adam Katz Sinding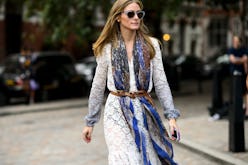 Fact: sunglasses aren't just for beach days and BBQs. Shielding your eyes during the winter season is crucial as the sun lies lower in the sky, which can cause heavier UV exposure. That said, not all sunglasses feel right with winter's rich colors and sumptuous layers. Look for heavier, more statement-making frames in cool, sophisticated colors. Below, a few favorites for these frosty months ahead.
Winter Sunglasses For Every Personality
Menswear
Stella McCartney, $270
These matte and masculine frames would look super-chic with a winter white look.
Classic
Komono, $100
Classic tortoiseshell shades look fantastic with winter's rustic plaids and tartans.
Retro
Fendi, $450
Winter's sophisticated wrap coats call for something a bit more ladylike.
Modern
Le Specs, $80
These cheery tinted lenses allow you to see properly in low winter light.
Minimalist
Oliver Peoples, $365
Winter's grey and camel cashmere pieces are begging for these cool opal frames.
Romantic
Topshop, $30
Pair this style with a pastel teddy coat and turn heads in a sea of neutrals and blacks.
Futuristic
Cutler & Gross, $565
Serious winter layers call for serious winter shades: these frames are not messing around.
Feminine
Miu Miu, $300
Pair with high-waist jeans, tall boots, and a cozy cocoon jacket.
Style It With