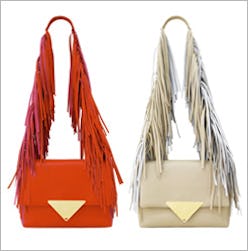 In fashion, fringe detailing is a telltale sign of summer. Though we have come to expect to see the hippie-chic element as soon as the weather warms up, designers are constantly finding new ways to make the trend feel fresh. Case in point: Sara Battaglia's Teresa Shoulder Bag.
A fitting first-time feature on the Italian-based label, this striking satchel conveys the eponymous designer's avant-garde sensibilities well with its quality construction, modern silhouette and over-the-top frills—the metal triangle accent is a Battaglia signature! Ready to be carried in bold red, striking white and classic black leather, the bag is simply begging to be adopted by a style-savvy individual. Heed its call and your every ensemble will reap the fringe benefits!
Availability: Sara Battaglia Teresa Shoulder Bag ($1075). For additional information, visit Sarabattaglia.com.