Outfit Upgrade: The Metallic Clutch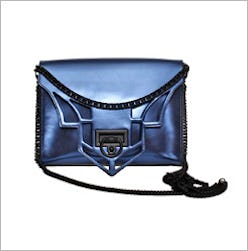 No longer reserved for cocktail parties and nighttime events, the metallic clutch is a new daytime staple for the fashion set. Reworked in big, masculine shapes and finished with edgy details, the must-have fits right in with everything from weekend denim to ulta-luxe suiting. Our fave take on the trend? Reece Hudson's new Italian-made Rider clutch, which comes in three bold metallic shades.
Tuck it under your arm or use one of the two strap lengths included with the bag, both rendered from slim, sleek pewter chain. Lovers of denim will go for the metallic blue shade while girly-girls might gravitate towards the cool purple color. The gold-tone version has a luxe vibe that looks maj with vintage silks or embroidered pieces. No matter which way you go, pair this It-bag with with something timeless and tailored and you'll look fabulously on-trend for fall.
Availability: Reece Hudson Rider Clutch in Metallic Blue, Metallic Purple and Bronze-Tone ($695 each).