How To Tell If Your Jewelry Looks Cheap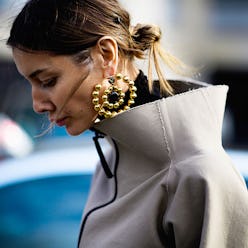 We're all for scoring a designer jewelry look on the cheap—how else can a girl channel all the latest trends without going broke? But if you're fully committed to accessorizing on a budget, it's important to pay attention to the factors that make inexpensive baubles appear—well, inexpensive. Here, exactly what to look for. If all these points check out, there's no reason your $10 steal can't pass as the real deal.
Does Your Affordable Jewelry Look Cheap?
More yellow than gold is a surefire sign of poor quality. Look for pieces in pale yellow, rose or white gold. A soft tone on a dainty silhouette is more credible than a hefty statement piece.
The larger the stone, the more likely it'll read faux. If you're working with color, make sure gems are completely transparent (avoid cloudiness and opacity), and that they're on the small side.
Keep it minimal. Too many embellishments, textures and colors layered together (fluffy pom-poms, beaded fringe, etc.) will make jewelry look cheap—plain and simple. Featured materials should look and feel cohesive.
These affordable styles ahead look like a million bucks. Shop on!