What Are Your Coordinates?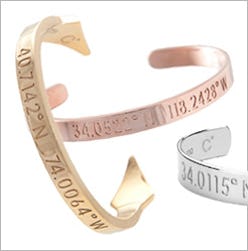 Love your city? Show your spirit on your sleeve (er, wrist) with a too-cool cuff by Coordinates Collection.
Fully customizable, these unisex bracelets come engraved in coordinates of your choosing in gold, rose gold, silver and more (with additional inside engraving and stones optional). Personalize a special place and time and keep it close forever by designing a cuff of your own!
Availability: Customize a Coordinates Collection Cuff ($160 and up).