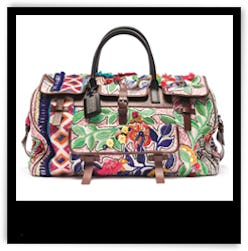 Do you frequently daydream about traveling, but never book a trip? Perhaps, the final push you need to get out of town is a staggering new piece of luggage. We present: Barbara Bui's Embroidered Linen "Dude" Travel Bag.
Begging to go globetrotting, this intricate masterpiece of a satchel will outshine every old black duffle in your closet. Detailed in a range of jet-set colors from plum purple to leaf green and everywhere in between, the buckled beaut is easy to spot from a mile away, so you needn't worry about losing it on the conveyor belt! Are you suddenly overcome with wanderlust? Pack Bui's runway gem to the brim and go wherever the wind takes you.
Availability: Barbara Bui Embroidered Linen "Dude" Travel Bag ($2955, available at Barbara Bui Beverly Hills, South Coast Plaza and New York City). For additional information, visit Barbarabui.com.