Check It Out: Altuzarra's Printed Boots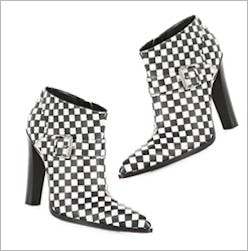 "Black has it all. White too. Their beauty is absolute." Though she was not front row at the Fall 2013 runways, Coco Chanel has eloquently summarized one of the season's most popular trends: the classic combo of black and white! From Proenza Schouler to Alexander Wang's premiere collection for Balenciaga, there's no denying that designers are appreciating the timeless color team.
A standout pair of shoes that fits the trendy bill? Joseph Altuzarra's gorgeous checkerboard ankle boots! Not for the faint of heart, the flashy footwear is at once nostalgic and on-point for the modern woman. Rock the look à la runway with an edgy moto jacket and slinky pencil skirt. Dressed up or down, these babies are bound to make people stop and stare—something Chanel would totally support.
Availability: Altuzarra Checkerboard-Print Leather Ankle Boots ($1225). For additional information, visit Altuzarra.com.