15 Chic Fall Staples From Walmart.com
Sweaters, denim, coats, and more.
Jeremy Moeller/Getty Images Entertainment/Getty Images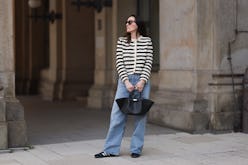 We may receive a portion of sales if you purchase a product through a link in this article.
Fall is just around the corner, which means there are endless clothing options just waiting to become a part of your seasonal style direction. While the thought of putting away your shorts and swimsuits may be exciting, there's no doubt that transitioning your wardrobe from summer to fall can feel overwhelming. Where does one even begin? Three words: fall fashion staples. There are certain classic pieces that work well for pretty much any autumn occasion, whether it's a staple knit sweater, a classic pair of denim jeans, a cozy coat, or corporate-approved trousers. These can be easily layered together or fit into an effortlessly mix-and-match formula, aka the secret to fall dressing. An added bonus? They're not overtly trendy, so you won't feel the urge to toss them out in a few months (and who knows, maybe you'll even want to wear them into next season!).
Curating an impressive collection of stylish fall staples can put a dent in a person's bank account. Thankfully, Walmart makes it easy to build a collection of key pieces all at an accessible price point. That way, you'll never have to worry about getting style-stumped. The only thing is, you won't be able to use the excuse of not being able to find anything to wear.
Ahead, 15 must-have fall staples from Walmart.com to add to your wardrobe immediately.
A Cozy Cardigan
A High-Waisted Pair of Jeans
A Basic Blazer
An Everyday Dress
A Sweater Tee
Coastal Grandma Core
The Perfect Midi Dress
A Denim Topper
Elevated Neutrals
A Leather Jacket For Day-To-Night
A Neutral Turtleneck
A Breezy Peplum Blouse
A Minimalist Skort
A Fall Favorite
This article was originally published on