12FIFTEEN Diamonds Is Revolutionizing The Industry With A Modern, Ethics-First Approach
Lab-grown diamonds are a key player in the future of sustainable jewelry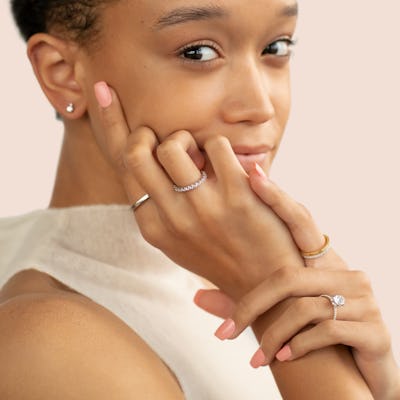 Diamonds never fail to make an impression. You might already have your own vision of the perfect solitaire diamond ring or tennis bracelet, but it's important to think about what a diamond looks like *and* where it comes from. Why's that? Diamonds mined from the earth have a significant impact on the environment (read: earth displacement, marine habitat destruction, biodiversity threats, ocean dredging, and more), which is precisely why we're turning to 12FIFTEEN Diamonds for all of our jewelry needs — from gifting to engagement — at every price point.
12FIFTEEN Diamonds is the longest-standing pure-play lab-grown diamond retailer around — meaning they've never stepped foot in the mined diamond space. Since 2005, through its parent Forever Companies, the brand has been fully committed to the lab. It's not just a trend or a subset of 12FIFTEEN's product offering — lab-grown diamonds are all the brand does and ever has done. And just to clear the air: lab-grown diamonds and earth-mined diamonds are exactly the same things. That's science, after all.
12FIFTEEN is dedicated to its mission to create gorgeous, custom-made, intricately designed pieces crafted with the environment in mind. But 12FIFTEEN knows that sustainability reaches far beyond the world of fashion, and that reducing the need for ocean dredging is simply not enough in the grand scheme of things. This fall, to further its impact and to continue to promote clean consumption, the brand is launching a partnership with The Foundation for Enhancing Communities to fund environmental preservation and sustainable innovation. Now, by choosing 12FIFTEEN, you'll not only be opting for a low-impact diamond, but you'll be an active participant in ensuring that the world we love will be ours forever.
What's more? 12FIFTEEN diamonds are grown quickly in a lab using cutting-edge technology, which makes them way more competitive than mined diamonds when it comes to price. Sustainable sparkle that's cost-effective, too? The choice is crystal clear.
Ready to find the perfect 12FIFTEEN piece for yourself or a loved one? Ahead, you'll find our favorite lab-grown diamond picks from the brand, including engagement rings, wedding bands, bracelets, earrings, necklaces, and more. Plus, stay tuned for more — 12FIFTEEN will be launching up to 200 new styles throughout the remainder of the year.