Inside Le Bon Marché's New York Inspired Pop-Up Shop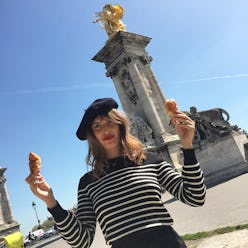 No matter how much fashion changes, the world's fascination with French girl style remains the same. There's something timeless, easy, and chic about donning a red lip, silk blouse, and that perfect pair of jeans with the confidence of a Parisienne. But just because French women know how to nail "effortless" doesn't mean they don't look elsewhere for inspiration.
This month, Le Bon Marché rolled out a new pop-up shop inspired by NYC's trendiest borough. And contrary to what it sounds like, the Brooklyn-themed experience isn't just a bunch of Girls-inspired clothes piled on a table. Upon entrance, it's clear exactly what France finds fascinating about Brooklyn; metal water towers decorate the interior, brick wallpaper lines the walls, and at the center of it all is a hip coffee shop with wooden picnic tables, oversize potted plants and boxes of vintage records.
The well-curated shop offers it all: clothing, accessories, and even food with a Brooklyn twist. Packages of kale sit between hand-crocheted beanies and those roomy wool sweaters that look best if you're sitting inside a Bushwick coffee shop, co-writing a memoir with your boyfriend.
While the décor at Le Bon Marché may seem gimmicky to some, the presence of a Brooklyn pop-up in Paris is proof of a phenomenon most Americans aren't privy to. While the rest of the world tries to imitate Garance Doré's Parisienne style, French girls are looking outward, taking style tips from lands far away and adapting them to their own outfits. Still, they don't sport Brooklyn boho without making some alterations.
At Le Bon Marché, the jeans are pre-cuffed, and the T-shirts are more fitted than in the States. While the same sweaters might be found strewn about in a vintage store in Williamsburg, in Paris they're folded perfectly on tables and hung neatly on racks, alongside modern jewelry displays and ceramic bowls painted in black and white. It's Brooklyn with a bit of Parisian polish around the edges. And honestly, who wouldn't want just that?