Cara Delevingne Shuts Down Tabloids That Claim She Was Rejected From Victoria's Secret's Casting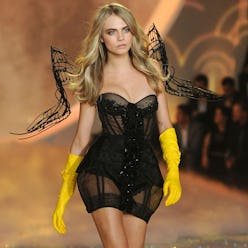 In today's edition of most outrageous news, British tabloid The Sun published a story that insulted every fiber of a woman's being. Before it was taken down, the article alleged that supermodel Cara Delevingne was turned away from the Victoria's Secret Fashion Show casting in 2014 because she was too "bloated." (Gasp.)
In response, VS Fashion Show executive producer Edward Razek personally reached out to Cara in a letter that doubled as her invitation to the show in Paris this year—no casting necessary.
"As a matter of fact, you were the first person invited, months ahead of anyone else," he wrote. "The alleged casting, where supposedly disparaging remarks were made, never happened. There was NO casting. You had already been enthusiastically confirmed."
According to the memo, the reason behind Cara's absence was a scheduling conflict with the movie Paper Towns, which she was filming at the time. The model then Instagrammed Razek's message along with a fitting caption: "It's shameless to discuss women's bodies just to sell papers." We totally agree.
The model has yet to RSVP, but we can only hope that she'll don her Angel wings this season. (That'll show the haters.)