Barack Obama Just Got Real About The Beauty Pressures Black Women Face Every Day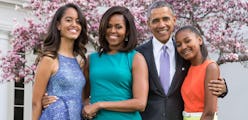 When Time magazine sat down for a conversation with President Barack Obama and ballerina extraordinaire Misty Copeland in late February, race, gender and what it really means to be a leader were all on the table. So, it turns out, was beauty. The lengthy chat, the transcript of which was published on Monday morning, swerved toward something surprising, especially since it came from inside the White House Cabinet room: the beauty pressures facing women—and black women in particular.
Read more: Meet the Woman Behind the App Revolutionizing How Black Women Buy Makeup
Obama didn't shy away from talking about how our culture has affected black women and the beauty standards they currently face. "When I was a kid I didn't realize as much, or maybe it was even a part of which is the enormous pressure that young women are placed under in terms of looking a certain way," Obama said. "And being cute in a certain way. And are you wearing the right clothes? And is your hair done the right way. And that pressure I think [has] historically always been harder on African-American women than just about any other women."
Is this the first time an American president has acknowledged the beauty standards facing black women today? It just might be. "It's part and parcel of a broader way in which we socialize and press women to constantly doubt themselves or define themselves in terms of a certain appearance," Obama continued.
For more on Obama's daughters' opinions on the matter, read the full article here.