The 6-Ingredient Salad Tracy Anderson Swears By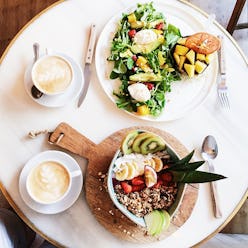 Leotard-loving Tracy Anderson might not believe in rest days, but her eating philosophy is super simple: "I don't take any supplements. I don't juice cleanse. I don't do any extreme diets for beauty—those things upset your system; they confuse your system. I really believe in getting your nutrition from whole, healthy foods."
Whatever she's doing, it's working—Anderson, who just opened her first Upper East Side studio, is shining brighter these days than the bulbs on the marquee sign outside her new space. (The multi-floor fitness mecca is housed in an old-school movie theater.)
At this week's celeb-filled opening party—somewhere between her video chat with business partner Gwyneth Paltrow, who couldn't make it because of the blizzard, and breaking in her new Super G shock-absorbent floor via a stilettoed mother-daughter-dance with her 4-year-old—Anderson explained how she stays fueled in her own life (you know, while running an exercise empire).
Right now, she says, fermented cabbage is in heavy rotation at her house. "I really, really, really love this Farmhouse Culture Garlic Dill Pickle Kraut—it's got prebiotics and probiotics in it."
And Anderson's not just slathering sauerkraut on brauts, either. Instead she's devised a genius way to incorporate the condiment into her go-to gut-boosting salad.
Tracy Anderson's Chopped Salad
Ingredients 1 hard boiled egg Handful of mixed greens Handful of sliced cucumber 2 tablespoons of sauerkraut Rosemary sea salt Splash of rice wine vinegar
1. Combine chopped hard boiled egg, cucumber, and mixed greens in salad bowl with kraut (single serving is about 2 spoonfuls).
2. Dress with rice wine vinegar and rosemary sea salt to taste.
That's it. You'll be eating in less time than it takes to do Anderson's 4-minute leg workout.
Related Links:
How To Meal Prep For The Week In Just 90 Minutes (Mic Drop)
Three Simple Ways To Hack Your Gym Work Out
How to meal prep for the week in just 90 minutes (mic drop)