Vanessa Hudgens Gave This Festival-Favorite Hairstyle A Black-Tie Upgrade
@vanessahudgens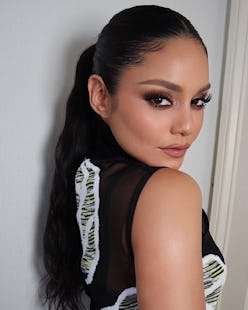 Though she skipped out on the desert this year, Vanessa Hudgens' reputation as the flower crown-loving queen of Coachella is indelible. Part of why she's such a beloved pseudo-ambassador is the way she embraces the fun-loving, whimsical vibe of the music festival in the real world, too, incorporating festival makeup and fringe-accented, playful outfits in her actual life. Hudgens' braided space buns, seen on the red carpet at a very different kind of festival: the Tribeca Film Festival's opening day. The sleek, upswept hairstyle is a permanent Coachella favorite, but Hudgens managed to black tie-ify it with just a few minor tweaks.
Hudgens walked the carpet at the downtown New York film festival for the premiere of her new film, Downtown Owl, where she was joined by co-stars Lily Rabe and Hamish Linklater. In classic Hudgens fashion, she wore a dark, moody color palette — witchy, as she would probably describe it — but dressed up with fun jewelry and, of course, her dramatic hair and makeup look. Celebrity hairstylist Danielle Priano created Hudgens' twisted buns for the evening, which she brought to life with Sexy Hair products. The key to the look is in its sleek, slicked down body and glossy, tightly-wound buns. Looser, lower buns would feel more casual — and thusly, far more Coachella.
Much of the fun is in Hudgens' smoky eye makeup, a steely shade of grey-blue that matches the tones in her dress. Celebrity makeup artist Soo Park smudged out that same shadow color through Hudgens' lower lash line, extending her eyeliner in the inner corners for some sharp, reverse cat-eye flair. Though she topped the entire look with strong lashes, likely strip-style falsies, Hudgens' delicate lip color and dewy complexion makeup balance it all out.
Is this hairstyle proof Hudgens regrets missing out on Coachella 2023? Actually, with the entrepreneurial streak she's been on lately, don't be surprised if she just starts her own music festival instead.