Tracee Ellis Ross' New Podcast Is Telling The Stories Of 'Hidden Angels' In America
@traceeellisross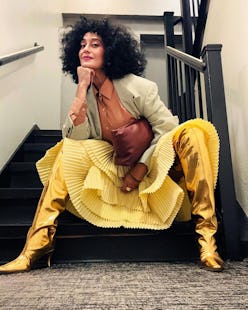 We're already big Tracee Ellis Ross fans — not only for her acting roles, but also as a role model for authenticity and impeccable style. From turning 50 to perimenopause to her on-point fashion choices, Ellis Ross never ceases to inspire us. And now, she's getting into the podcast space with I Am America, which will launch on January 31 through Dear Media, a company that focuses on podcasts featuring strong women's voices.
Ellis Ross co-created the podcast and also serves as the executive producer. The aim of I Am America is to act as a counter-narrative to stereotypes and will feature a person of color in each episode. On January 24, Ellis Ross talked about her new venture on Instagram stating, "It took something really special for me to jump into the podcast world, and this is it. Inspired by people I like to call 'hidden angels,' these people are true inspirations — people who affect their communities with kindness and humanity. I am thrilled to present I Am America, where we meet people who are redefining their own identity, the idea of community, and the possibility of our country." According to a press release, the podcast's goal is also to "show that the power of human connection transcends systemic beliefs, giving us the ability to reimagine and reframe the identity of America."
On Instagram, Ellis Ross also called it a "deeply moving" experience that allowed her to get back into her love of writing and crafting stories. "I am filled with deep gratitude to be able to create mindful narratives and to use language and perspective to create this kind of content," she said.
The 10-episode first season of I Am America begins January 31, with new episodes dropping weekly. Some guests may be recognizable while others will be heroes behind the scenes who never had a platform to share their stories before — until now. "I hope you give these stories a chance to connect with you," Ellis Ross said in an Instagram post. "They have affected me deeply and fill me with such joy. These stories are proof that America is not a monolith but a complex and beautiful promise."