Bright Lipstick Can Lift Your Mood, Experts Say — And These Celebrities Know It
Han Myung-Gu/WireImage/Getty Images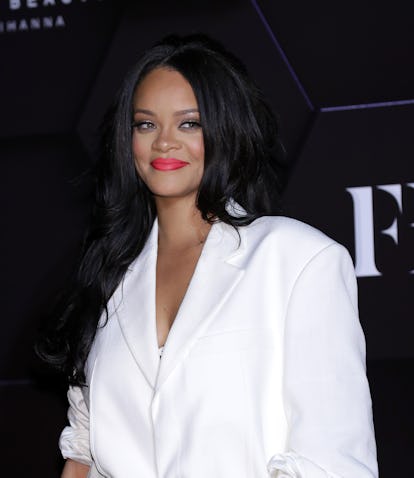 We may receive a portion of sales if you purchase a product through a link in this article.
You likely already know just intrinsically that makeup is about so much more than just aesthetics. Since the legitimate dawn of time, even rudimentary forms of lipsticks and kohls have been used for self-expression, ceremony, and ornamentation, practices that have only been more deeply entrenched in our collective human culture over the centuries. Even celebrities know bright lipstick makes a visual and psychological impact — and the research focused on the makeup's power helps explain exactly why.
You might have heard in an economics course (or on Twitter, whatever) that lipstick is recession-proof, and that's entirely accurate. Even amid the desolation of the Great Depression and the production halts that came with it, women were still buying lipstick — and with good reason. Not only did a 2011 Harvard research project discovered that women reported feeling more confident wearing makeup overall — especially red lipstick, the study found — but those who wear colorful cosmetics are actually perceived as more competent and reliable. No matter how you slice it, bright lipstick shades just automatically create an all-eyes-on-you effect — which explains why bold colors are such a perennial red carpet staple.
Ahead, explore the bright statement lipstick possibilities, with inspiration (and shopping recommendations) straight from your favorite stars.
Beyoncé's Ring-The-Alarm Red Lipstick
Typically, Beyoncé likes to employ the French-girl method that calls for minimal makeup (if any) all over, with just a bold slash of red lipstick that commands all the attention. But even when buttressed by bronze eyeshadow and a plunging dress bodice, the bright, warm-toned red lipstick still stands out.
Kylie Jenner's Neon Pink Lipstick
Jenner is undoubtedly her family's resident makeup guru, which makes her looks always rife with experimental colors and bold techniques. This blindingly bright shade of neon pink is the coolest pop of color against her all-black ensemble, made a little low-key by its smooth, matte finish.
Taraji P. Henson's Orchid-Purple Lipstick
This stunning shade of orchid purple manages to be one of those rare colors that's equally bright and delicate. It's a brilliant complement to Henson's royal-blue gown (and even the floral step-and-repeat in the background, for that matter), a cool-toned floral that feels springtime fresh.
Priyanka Chopra's Barbie-Pink Lipstick
If you need lipstick inspiration, you go to Chopra — she's the queen of copy-worthy lip colors. But even among her excellent cosmetic track record, this cool, juicy pink is next-level. The shade itself looks beautiful against her skin tone, but the glossy finish gives the entire look healthy, dewy finish.
Rihanna's Bold Blue Lipstick
How can you even build a bright lipstick lookbook without mentioning the reigning champion of celebrity beauty brands? While Rih's own Fenty Beauty line doesn't carry a bold blue color anymore, her sporty-cool look in London is enough to convince anyone to try it out for themselves.
Jennifer Lopez's Autumn-Orange Lipstick
Not all oranges are exactly the same. While some lend that just-ate-a-popsicle summer feel (like Solange's take on the look, found below), others veer more pumpkin-toned for a distinctly autumnal look. Lopez's orange features enough yellow to a) warm up her monochromatic gown, and b) perfectly match the sunset-colored blush sweeping up her cheeks.
Taylor Swift's Old Hollywood Red Lipstick
Speaking of mattes, going for a drier finish is one easy way to get the Old Hollywood effect beloved by stars like Swift. Though she's been into more muted shades of orange lipstick lately, a classic blood-red remains her eras-enduring calling card.
Solange's Traffic-Stopping Orange Lipstick
The difference in shade between Solange's coral-y lipstick and Lopez's (above) is minimal, but it's the seasonality of the shades that makes all the difference. Solange's electric, citrus-y shade is more of an overt statement piece, brilliantly playing off the blue tones in her jumper to stand out all the more. Despite her sweater, it's summer in a tube.
Blake Lively's Opaque Fuchsia Lipstick
Lively usually prefers a standout hair moment to bold makeup, but when she does go for it, great things happen. To break up her chic white-on-white outfit, she opted for a happy-go-lucky shade of blue-toned fuchsia that would make Mattel sing.
This article was originally published on