Suki Waterhouse Says She Prioritizes This Key Detail When Entertaining
Madison McGraw for BFA.com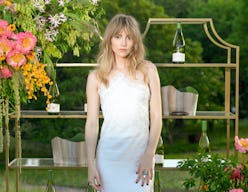 We may receive a portion of sales if you purchase a product through a link in this article.
If you ever have the opportunity to attend a dinner party at Suki Waterhouse's home, we strongly suggest you jump on it. In addition to being a multi-faceted talent — singer, actor, and model, to name a few of her titles — the Daisy Jones & The Six star (who was TZR's March 2023 cover star) is also known to host some pretty interesting soirees.
"When I have people over, I really like trying to make it an event," says Waterhouse on a phone call with TZR. "I concentrate on bringing people together that would never usually hang out. I don't practice Kabbalah, but my friend had a Kabbalah teacher and we brought him around and he gave a speech. And then I also had this incredible mentalist who was in town who's a friend of mine named Lior Suchard. At dinner we had a couple of drinks and he guessed numbers in people's heads and made things move."
In an effort to focus on her guests, the actor explains that, when it comes to entertaining, she doesn't like to sweat the small stuff. While Waterhouse can whip up a mean "jacket potato" for a few friends, she prefers to leave the cooking to a professional when hosting a larger group. "I'm not somebody that's going to be able to cook for 10 people," she says. "I'll have someone come in and make some food, so that's taken off the table."
Libations are also kept simple, with crowd-pleasing wines that go with a variety of dishes kept on hand. "I think a sauvignon blanc is always around because that basically goes with everything," she says. (Waterhouse is a proud partner of New Zealand wine label Cloudy Bay, which is known for its iconic sauvignon blanc.) For cocktails, the London-born star admits to gravitating toward a sweeter sip. "I love a piña colada or a white Russian," she notes. "My favorite cocktail is probably an amaretto sour. But yeah, you can see that they're all incredibly highly sugary cocktails that kind of disguise the alcohol and can be pretty dangerous when you're making those all night. They can get you very happy pretty quick."
All the more reason to indulge, right? And, for Waterhouse, being present and enjoying her company is a top priority when hosting. "My pet peeve with entertaining is when [a host] is washing up during a dinner party," she says. "For me, I'm like, you have to just be completely present in the party. I always just say, 'OK it's a bust for tonight, we deal with it the next day.' Everything doesn't have to be super presentable [in your kitchen] after you've served dinner. I think that your guests always appreciate your presence more than anything else."
And never underestimate the power of great ambiance and some mood lighting. "I just hosted a birthday party a couple of months ago and I had a company come in and we lit about a hundred candles all around the house," Waterhouse recalls. "I'll really go hard on the lighting and make sure everything is lit really beautifully. And if I have to rent a lamp or get a bunch of candles, I think that to me is the most important thing."
Sign us up for the next dinner party, Suki. We'll be there with bells on.