Sofia Richie Grainge's Relationship With David Yurman Goes Way Back
She stars in their latest jewelry campaign.
Courtesy of Glen Luchford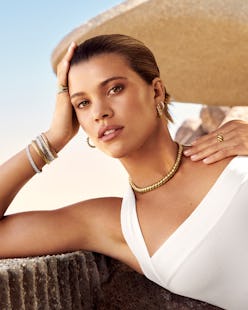 We may receive a portion of sales if you purchase a product through a link in this article.
Over the summer, Sofia Richie Grainge's Pinterest-worthy bridal looks launched her to It-girl status. Now, all eyes are on her next moves, especially where fashion is concerned. There's her upcoming clothing line (details are slim, but it'll 100% channel her timeless aesthetic) and more imminently, this week her jewelry campaign with David Yurman dropped. The Richie Grainge-approved collection spotlights the Sculpted Cable accessories, newer iterations evolved from the brand's iconic Cable designs.
You'll see the drop is filled with "stealth wealth" pieces like a gold Cable band and a sterling silver Triple Wrap Bracelet. If you wanted some extra sparkle for your going-out looks, the collection also offers Sculpted Cable pieces encrusted with glistening diamonds. Don't know what to buy? Just look to Richie Grainge's campaign imagery, where she models several of the styles.
"Jewelry plays such a large part in how I get dressed — it's one of the first things I think about: what am I feeling today, jewelry-wise? I will sometimes even base my outfits around a pair of earrings or a stack of bracelets," she tells TZR over email. According to the model's TikTok and Instagram accounts, she prefers to stack different textured bracelets together on her right wrist. "I know that's a very particular thing, but I usually choose ... six or seven of the [David Yurman] bracelets [to wear]. On its own the bracelet may look so simple, but when you add them all together, it's really a moment," she adds.
It may seem like Richie Grainge's partnership with the luxury brand came out of the blue, but their history actually goes way back to her childhood. She recalls going into her mother's jewelry collection and "stealing" a David Yurman piece to wear herself as a kid. Of course, now she doesn't need to resort to this, as she has access to the brand's coveted styles, but her love for David Yurman remains strong. "The brand embodies everything that I'm trying to express with my aesthetic, with how I dress, and how I want to feel, which for me is very timeless and elegant," Richie Grainge says.
On social media this summer, she gave her fans a sneak peek at how the collection, and her bracelet stacking style trick, elevates her outfits. She sported various pieces at her 25th birthday party, in her classic #OOTDs, and even on the cover of Town & Country — the entire Sculpted Cable line has become her go-to when dressing for a variety of A-list events.
For anyone who wants to channel Richie Grainge's personal style, you can do so instantly with the jewelry pieces ahead. We suggest grabbing a few of the bangles in different metal tones to style à la the star — the stack will make a strong statement.