Did Sarah Jessica Parker Just Introduce The Next Big Color Combo For Spring?
Pink and blue ... who knew?
Gotham/GC Images/Getty Images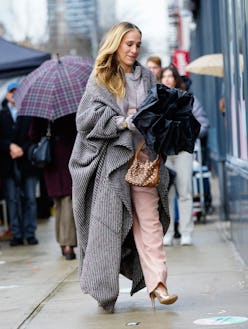 We may receive a portion of sales if you purchase a product through a link in this article.
This time of year, it's hard to find much light and warmth, literally, so we do our best to find it in the little things. Like the latest sightings of Sarah Jessica Parker and Co. filming the Season 2 of And Just Like That. In the midst of cold and dreary NYC days, glimpses of Carrie Bradshaw's ensembles serve as a beacon of hope and style inspiration, delivering the warm and fuzzies to avid fans patiently waiting for the show's return. SJP's most recent ensemble, a candy-colored pink and blue casual coat curation, was no exception, serving as great fodder for those wondering how to make their lived-in winter separates feel fresh and new.
The photos from the Feb. 2 shooting day showed SJP (filming with pal and co-star Cynthia Nixon) in a pajama-inspired layered look that included a pink plaid wool trench thrown haphazardly over a multi-colored cardigan and printed blue tee. On the bottom, the comfy look was complete with charcoal sweatpants, white tube socks, and Gucci slippers.
Clearly, this is a more relaxed, off-duty Bradshaw moment, but somehow the look still reads put-together, likely because of the aforementioned color-combo on top. While pinks and blues together often risk reading overly precious, the strategic pattern-mixing felt elevated and cool. Also, the various shades in the cardigan — a light and bright mix of ivory, teal, navy, and cerulean — complemented the richer blues in the bottom t-shirt shell and contrasted nicely with the soft pink top layer. Somehow, someway, two color categories that shouldn't go together, worked in perfect harmony.
Another bonus to this ensemble was its ability to function as a transitional ensemble. Although all signs point to the contrary, spring is well on its way. Layered looks like SJP's could prove invaluable in that they allow you to remove an item without sacrificing style as the days slowly begin to warm.
Could pink and blue be the spring color combo we didn't know we needed? Parker (and, by proxy, Bradshaw) seem to think so.
Shop similar items below to make your last leg of winter a stylish one.