The Costumes On 'Queen Charlotte' Are Full Of Smart & Meaningful Details
Look out for these fashion easter eggs.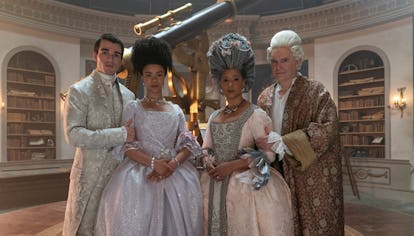 Cancel all your plans this weekend because Queen Charlotte: A Bridgerton Story is here. If you plan to binge the spinoff, we don't blame you. There's a lot to take in throughout the six episodes, from 17-year-old Charlotte's marriage to King George III (played by India Amarteifio and Corey Mylchreest, respectively) and her rise to the throne, to the cast's intricate looks set in Georgian-era England. The series also marks the first time viewers will deep dive into Charlotte's backstory — which, naturally, includes her style evolution. As fans know, the drama's costumes are crucial to bringing the period piece to life.
"There's definitely an arc and an origin story in the costumes for young Charlotte as she transitions to become Golda [Rosheuvel]'s Charlotte," says the show's costume designer Lyn Elizabeth Paolo. She was tasked with creating outfits for both past and present timelines, with the latter meant to take place between Bridgerton Seasons 2 and 3 (which is still in production). "Young Charlotte wears a cacophony of color — lots of pinks, orange, lavenders — and then the shades become a little deeper and richer [as the story progresses]." You'll recall that Bridgerton's Charlotte wears more dark reds, teals, and rich golds, which stands in contrast to the soft pastel hues on her teenage self. This purposeful use of color is used to convey strong feelings and emotions. Thus, it makes sense a more self-assured Charlotte leans into the richer, regal tones.
A teen Charlotte wearing a pink gown to her first ball with King George.
Queen Charlotte in a more elaborate look.LIAM DANIEL/NETFLIX
While the color palette certainly plays an important role in Charlotte's fashion arc, how she chooses her clothes on-screen adds another fascinating layer to her character. In episode one, King George's mom, Princess Augusta (played by Michelle Fairley), tries to persuade her to wear an English-style wedding gown and not the elaborate dress she brought over from Paris. This scene highlights the monarchy's attempts to control the young woman by dictating her wardrobe.
However — spoiler alert — she never ends up walking down the aisle in the plain dress, instead opting for the more over-the-top embroidered gown. This act of defiance here, signals a rather spunky and fierce attitude from a teenage Charlotte — and as Bridgerton viewers can attest, Queen Charlotte is quite strong-willed and sophisticated in her later years, too.
George and Charlotte meet for the first time on their wedding day.
The couple's wedding day outfits.LIAM DANIEL/NETFLIX
"Young Charlotte is a very strong individual and we wanted to keep her own fashion sense and her own traditions," says costume designer Laura Frecon, who worked closely with Paolo to create over 1,000 looks for the show. "Her [wedding gown] from France, we wanted it to be just absolutely spectacular and more modern."
And spectacular and modern it was. The stunning piece, inspired by the final dress in Zuhair Murad's Fall 2018 Couture runway show, was accompanied by a wedding cape that actually paid subtle homage to another Shonda Rhimes heroine: Olivia Pope. The 10-foot bridal number had to be embroidered in 18 separate pieces, and it was so heavy that Amarteifio had to wear a harness underneath to secure it. (On-screen, you couldn't make out any of this as she glided so easily down the aisle.)
As the series unfolds, one can see how young Charlotte starts to tweak her outfits to reflect her new life as queen — and her budding love for King George. A large part of her fashion narrative entails the couple's costume color palettes mirroring their romance story. When they're together, the colors they wear are complementary. For example, when they first meet in the garden, their looks both contain silver.
As the show progresses and Charlotte becomes more entrenched in the royal family and her love for King George grows deeper, her style is in even greater conversation with his. A moment to note? The famous Stars and Moon ball in episode six, where George's jacket has tiny gold stars stitched onto his waistcoat while Charlotte's gown has silver stars woven into the bodice. Her tiara also has stars hidden within the jewels.
The fashion easter eggs didn't stop there: Jewelry fanatics might pick up how Charlotte's opulent accessories evolve as well. According to Frecon, as the young queen becomes more regal, the baubles becomes bigger, moving away from softer, modern styles. By the end of the show, you see her in big sets with two bracelets and matching rings, as well as a giant necklace with a matching tiara.
However, Queen Charlotte doesn't completely ditch all her jewelry pieces from her teen years. For example, the coronation jewels 17-year-old Charlotte wears in episode three are later worn again by the queen for her family portrait in episode six. Plus, adult Char always has on her unmissable, emerald cut wedding ring, which Paolo says is a real Georgian piece loaned to her by Larkspur & Hawk. These moments subtly tie the story of the queen's fashion evolution together.
The fact that Rosheuvel's Charlotte rewears a few of young Charlotte's go-to designs corresponds nicely to the costume designers end styling goal on the show: to bring the two versions of the protagonist together. Both Paolo and Frecon reveal that they edited the color palette for Rosheuvel's Charlotte to be a lot lighter than how viewers initially saw her in Bridgerton while still using the usual elaborate patterns and heavy brocade for her outfits. Towards the end of Queen Charlotte, for example, the green hues get softer while the orange shades turn to soft peach hues in her outfits — a subtle change you might've missed while plowing through the episodes. For the costume designers, these nuanced fashion details all cohesively come together to help tell the story of Charlotte's evolution from teen to queen.