The Trench Coat Is A Key Character In 'Only Murders In The Building' Season 3
Costume designer Dana Covarrubias explains why.
Courtesy of Hulu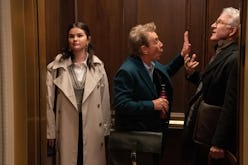 Hulu's Only Murders in the Building just returned for Season 3 — and not only is your favorite trio back to solve another riveting mystery, but their outfits are looking better than ever. According to the show's costume designer, Dana Covarrubias, this is no accident: every style has been carefully conceptualized to underscore each season's story by way of paying homage to a specific crime genre. But before you try to rewatch all the previous episodes to confirm (who has time?), we'll explain.
In Season 1, the costumes drew inspiration from Franklin W. Dixon's The Hardy Boys novels, which was evident in sardonic artist Mabel Mora's (Selena Gomez) marigold color palette consisting of Clueless-esque plaid sweaters, and former actor Charles-Haden Savage's (Steve Martin) trusty blue sweaters and trousers — not unlike those you saw on Dixon's The Treasure Tower book cover. Season 2 focused on the black-and-white duality seen on blonde femme fatales in Alfred Hitchcock movies. As for Season 3? The clothes touch on detective noir and a key sartorial emblem that goes with it: the trench coat.
The timeless outerwear silhouette first made an appearance at the end of Season 2. In episode 10, you'll recall theater director Oliver Putnam (Martin Short) finally launches his Broadway play, starring neighbor-cum-partner in (solving) crime, Charles. Mabel rounds out their rag-tag group of guerilla detectives and podcasters, looking on from the audience. Joining Charles onstage is Ben Glenroy (played by Paul Rudd) about whom we glean two things from his initial appearance in the show: his name and his fate — death, which is not part of Oliver's script! This sets the stage for Season 3's mystery; and while viewers may not have known it at the time, the tie-waist coat Ben was wearing in his final moments would become a pivotal motif this season.
The garment, it turns out, has deep roots to crime noir. According to Jane Tynan, assistant professor of design history at Vrije Universiteit Amsterdam, the piece is strongly associated with figures in American crime fiction of the 1930s and film noir of the 1940s, including Casablanca, The Big Sleep, and Foreign Affair.
"At the time, the U.S. was recovering from the shocks of war and the Great Depression, so the trench coat could be interpreted as a symbolic defense sealing the detective off from harm as if a simple coat could make him impervious to toxic forces," she tells TZR. In her book Trench Coat, Tynan traces the evolution of this iconic garment from its roots in the battlefield to it being a cover-up of choice for gangsters such as Al Capone and Bugsy Siegel in the 1920s to the fictional detective's unofficial uniform that it's best known as today. So it makes sense to spot it in Oliver's play which, upon Season 3's premiere, we now know is a 1940s-set domestic thriller about a missing baby called Death Rattle Dazzle.
The trench coat doesn't just stay within the confines of the fictional stage — the outerwear spills over into the main OMITB storyline as the group tries to solve Ben's murder. Historically, "the only figure who could [prevent and solve crime] was the man in the trench coat," says Tynan. However, with Charles and Oliver being preoccupied by their duties on their Death Rattle Dazzle play, it's Mabel coming into her own as the lead sleuth on the case. This power shift is reflected in her clothing.
Viewers will see Mabel move away from wearing super bright colors, toward darker shades — and it goes without saying that she rocks a trench coat or two. "Going into Season 3, Mabel realizes she's ... a very good detective and she's very good at doing the podcast," Covarrubias shares. "We wanted to reflect this realization in the costumes and have her go more in on the detective vibe." A few pieces to look out for? Mabel's more serious, moody blazers, tailored black pants, and of course her trench.
"A lot of Mabel's color palette was inspired by the Bob Fosse looks; there's a lot of black in Bob Fosse," she says of the famed director and choreographer, especially in his musicals Sweet Charity and Chicago. In Episode 2, we can see Mabel in an all-pinstripe ensemble that nods to Chicago, and a dream sequence that quite literally pulls from Sweet Charity.
Tynan says that ultimately the trench coat is used in shows and movies as a "narrative device to create suspense," and indeed that tension is already palpable through Ben's mysterious death. Although Covarrubias stays mum on sharing any more details about the hidden meanings in the wardrobe (no spoilers!), viewers will notice that all the characters wear trenches at one point or another throughout the show. Perhaps this serves as a sign that the trio will reunite as a team to solve the crime? We'll just have to tune in to see.