Prepare To Fall In Love With Megan Thee Stallion's Perfectly Curly Bangs
@theestallion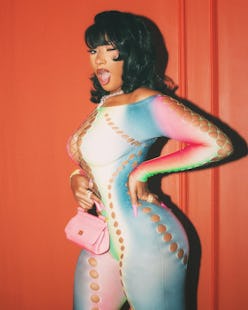 We may receive a portion of sales if you purchase a product through a link in this article.
You could practically feel the collective sigh of contentment when Megan Thee Stallion returned to Instagram after a (well, well deserved) mental health hiatus. When she was ready to make her grand re-entrance, though, she did it in the most spectacular way possible: turning up at Hollywood's ultimate after-party with her natural curls fluffed, glossed, and defined to their fullest potential. It'd be a triumphant return no matter what, but Megan Thee Stallion's curly bangs are the proverbial cherry on top of an unbelievable look. Everybody, please take note: 2023 belongs to hot curl summer, so please plan accordingly.
While Meg's Vanity Fair Oscar Party hair, styled by celebrity-favorite artist and her close friend Kellon Deryck, is legitimately flawless, her curls aren't a one-night-only deal. In her most recent Instagram post, Megan shared a series of intimate photos that show off her long, perfectly-structured curls in all sorts of different settings — natural curly bangs included. She threw in a few straight-haired selfies (and some gym inpso) to keep things interesting for the fans, too, but nothing compares to Meg's elbow-skimming curls on some exotic, luxe beach, paired with a truly of-the-moment halter-neck monokini. With just two Instagram posts in the wake of her social break, she's already delivered enough hair, makeup, and nail inspo to last all spring and summer.
Megan's curls are impressively long, but the major length isn't a surprise. For years now, she's let fans in on the behind-the-scenes details of her natural growth journey, which she occasionally documents on social media. In fact, back in 2020, Megan shared that taking tip-top care of her natural hair was one of her biggest goals going into the new year — and it certainly seems like she's kept up with it, even shouting out her favorite products like the Mielle Organics rice water hair milk on Instagram.
If you're looking to make 2023 the year of your own natural hair growth journey, lean into Megan's lead and go for moisture above all else. Especially crucial for Type 4 hair, a focus on hydrating hair will mitigate breakage and help define curls. Cut back on heat styling where you can, and make sure to protect delicate strands with silk and satin pillowcases, bonnets, scrunchies, and wraps when possible. With hair as lush as Megan's at the finish line, it's easy to stay motivated.