Meg Ryan's Best Movie Hair Moments Are As Iconic As Her Roles
Warner Bros/Kobal/Shutterstock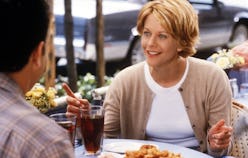 She's back. After a 14-year break from rom-coms, the genre that made her America's Sweetheart, Meg Ryan is returning to the genre with What Happens Later. This time, in addition to starring in the film (hitting theaters October 13), Ryan is also co-writing and directing — so the comeback is momentous indeed. News of the upcoming film, which chronicles the fateful reunion of a former couple who reunite at an airport after their flights are delayed due to a snowstorm, has loyal fans rejoicing and reminiscing of the actor's on-screen magic — and iconic hairstyles — in past films like Sleepless in Seattle and You've Got Mail.
Even the release of film stills and an official trailer has everyone drawing comparisons to Ryan's past roles. In fact, one can't help but notice that the mid-length, loose waves she sports in What Happens Later look oh-so similar to the unkempt curls she had in her breakout film When Harry Met Sally. So, if you're hoping for classic Meg Ryan, this new film might just deliver.
With the film's October release still more than a month away, perhaps a trip down memory lane will tide you over. Ahead, we spotlight some of Ryan's most iconic hair moments in the film. If anything, this list is proof that the woman is a true chameleon in film and in her look.
When Harry Met Sally (1989)
Ryan's foray into rom-coms all started with a little movie about lifelong friends-turned lovers — and a fake orgasm scene that will go down in movie history. For the rom-com, the actor's honey blonde hair is the epitome of '80s glam, hitting at her shoulders in brushed out waves and wayward bangs.
Sleepless In Seattle (1993)
For her next iconic role, which puts Ryan opposite Tom Hanks in this Nora Ephron classic, Ryan's wavy hair is grown out, worn long to her mid-back. Her wispy bangs are still in tact, with a bit more structure and form than we saw previously. The quintessential '90s look is complete with the loose French braids the actor wears throughout the film.
French Kiss (1995)
For this lively European romp, Ryan's hair is cut short, into an almost-pixie shag style. This is likely one of the shortest cuts we'll see on the actor. Her previously dirty blonde hair is lightened to an icier tone. When paired with the small blue-lens sunnies, oversized button-downs, and baggy denim she dons throughout the movie, the star's choppy, piece-y look reads very Parisian chic.
City Of Angels (1998)
In her more dramatic role as surgeon Maggie Rice, Ryan's typically relaxed waves are transformed into their more natural state of tight ringlets, reminiscent of a Botticelli muse. Considering the title and premise of the film (actor Nicholas Cage is an angel who falls in love with the mortal Maggie), Ryan's hair feels symbolic in its almost cherubic style.
You've Got Mail (1998)
Arguably one of Ryan's most notable and beloved films to date, You've Got Mail (which reunites the actor with Tom Hanks) brings back the straighter, bob-pixie hybrid we saw on Ryan in French Kiss. This time, the cut has longer layers, forming a natural rounded shape that curls out at the nape of her neck. This short, chin-length cut is Ryan's signature at this point, almost as iconic as "The Rachel."
Hanging Up (2000)
In the millennium, Ryan joined forces with Diane Keaton and Lisa Kudrow for a film about the complex relationship between sisters navigating caring for an ailing and aging father. For the film, the actor goes full Y2K in a choppy, layered bob that is flat ironed and piecey. Although this film flew under the radar, Ryan's look soars in our memories.
Kate & Leopold (2001)
This time-traveling rom-com pairs Ryan with Hugh Jackman in a film that crosses the 19th century with modern day. As cynical and ambitious career woman Kate McKay, the actor's hair worn longer than we've seen in years, hitting just at her shoulders. Still in step with the early aughts trends, Ryan's lob is kept stick straight, with long curtain bangs framing her face.
The Women (2008)
For the 2008 remake of the 1939 classic, Ryan is part of an all-star cast of women that includes Eva Mendes, Annette Bening, Debra Messing, Jada Pinkett Smith, and Candace Bergen (no men are featured in the film, hence the title). In her lead role as gilted Mary Haines, Ryan's hair admittedly goes through a transformation from curly to straight — likely symbolic of her character's evolution — but it's the former, long, wild tendrils that hold the spotlight for most of the film.
Serious Moonlight (2009)
In her last rom-com before the aforementioned 14-years hiatus, Ryan truly shed her short-haired image, with long, blown out locks. Her typically buttery blonde shade has chunky honey and soft brown highlights running through it, for added dimension.
What Happens Later (2023)
As mentioned before, Ryan's return to rom-coms seems to also bring her back the very beginning of her hair journey, when her shoulder-length wavy strands were brushed out and strategically unkempt. Her hair color seems to embrace a more lived-in look, with darker, latte-colored roots that fade out to a lighter, brighter blonde.