Jennifer Aniston's Go-To Polishes Make Up The Perfect Capsule Nail Color Collection
No gemstones. No glitter. No foil or ombré or geometric designs.
Steve Granitz/WireImage/Getty Images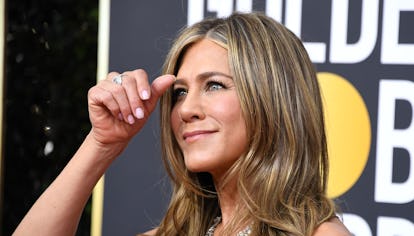 Jen Aniston is the Grace Kelly, the Audrey Hepburn, or Jane Birkin of our time. Still gracing magazine covers at the age of 50, the age-defying beauty has maintained relevance several decades after becoming Friends famous. Jennifer Aniston's penchant for a classic nail polish color perfectly exemplifies her timeless style.
You could sift through photos of the actor from 10 years ago yet never know that they weren't taken just yesterday. Sure, she's had her moments with polarizing trends — The Rachel haircut in '95 or the notorious red-carpet dreadlock incident of '99, for instance — but she has for the most part kept a classic aesthetic. One that every generation can get behind.
Her affinity for a universally loved nail polish color is a case in point. You'll never see Aniston flaunting the most current nail trends. No gemstones. No glitter. No foil or ombré or geometric designs. Rather, she sticks to a more traditional palette: pinks and reds with an occasional peach shade thrown into the mix if the weather's right.
In an age where creative and intricate (often times expensive) nail art reigns, Aniston's simple, subtle manicures prove that minimalism is still in. Her go-to hues, ahead.