Hailey Bieber's Acne-Positive Approach To Covering Pimples Is Already Runway-Approved
@haileybieber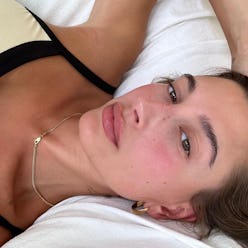 We may receive a portion of sales if you purchase a product through a link in this article.
It seems to be an inevitability, even for celebrities — if you have something big going on or a major moment on the calendar, a zit will usually pop up. Perhaps it's stress, due to travel, or maybe even just the universe's way of keeping everyone humble. It does happen, though, and when it does, it pays to be prepared like Hailey Bieber. Just before skipping off to Paris for a week of fashion shows and high-profile parties, the star was spotted out to dinner sporting a pimple patch. Bieber opted for the kind of treatment-coated decal that stands out, too. Right there on her forehead was a Starface sticker, an adorably-shaped hydrocolloid bandage formulated to absorb and dry out spots while protecting them, gripping the skin, and looking cool in selfies.
Bieber paired the patch with her usual sleek favorites, including her beloved slicked-back bun and a dewy-looking cheek glaze. The black, star-shaped sticker both stood out against her skin and fit right in with her comfy-cozy leather jacket and chunky loafers — but Bieber's loud-and-proud Starface usage is half the point, too. While most pimple patches are semi-transparent dots designed to treat and obscure the look of acne, Starface's range of cartoony-cute versions turn an unexpected zit into a fashion statement.
Available in assorted sizes, treatment options (the microdart-covered clouds are amazing), and shapes, the brand is an extremely popular one with Gen Z. Along with Bieber and her husband, fellow A-listers like Florence Pugh, Willow Smith, and Maisie Williams have all been seen with the trademark stars scattered across their faces, a multi-tasking move that simultaneously shrinks spots and helps embrace them in general. Rather than trying to covering up and hiding away, the Starface patches invite you to look.
Starface even popped up at New York Fashion Week, adorning models' faces at the Collina Strada Spring 2024 show — the fact that nearly everyone came down the runway with big, wide grins rather than the trademark supermodel scowl feels more than just incidental.
Victor VIRGILE/Gamma-Rapho/Getty Images
Lexie Moreland/WWD/Getty Images
To follow Bieber's lead, simply pick a patch with a colorscheme or character that speaks to you, or grab one based on individual acne issues. The aforementioned clouds, for instance, are great for those not-yet-surfaced beasts, while the large-sized yellow stars make it easy to treat clusters or bigger areas en mass. From there, all that's left to do is step outside — instant star power.