This Cult-Favorite Line Just Released Its First New Foundation In 38 Years
@guerlain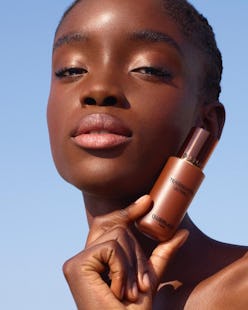 We may receive a portion of sales if you purchase a product through a link in this article.
In any makeup bag or drawer, you'll find pieces that are more than just beauty products — they're more meaningful than simple consumables designed to cover a blemish or brighten the lips. They can define an era, an aesthetic, or a person at a particular moment in their lives. When Guerlain dropped its original Terracotta powder back in 1984, the product became synonymous with that artfully undone, fresh-faced French girl look. Now, with the release of Guerlain's Terracotta Le Teint foundation, an entirely new generation is experiencing the collection — learning why it's still so beloved — for the first time.
As the Terracotta line's first foundation launch since the original powder, Le Teint continues the original's legacy in an unexpected way. The liquid foundation is actually powder-infused for a lightweight, matte feel, but manages to still glorify even dry skin types without sacrificing even a bit of luminous radiance. For Guerlain Makeup Creative Director Violette, the goal was to take the original Terracotta powder's natural-looking, subtly-perfecting properties and combine it with a blurring, brightening liquid foundation suitable for any occasion. "This product delivers a good balance between freshness and sophistication," Violette tells TZR, "that famous, effortless elegance that French women have always embodied."
Available in 30 shades with 16 intensities and three distinct undertones, the magic is really in the formula's proprietary Gemtone technology. Gemtone's self-adjustable mother-of-pearl shimmer mimics your natural skin tone, Violette explains, to more perfectly suit everyone's individual color. The blurring, transfer-proof effect of the powder infusion, as well as the subtle shimmer, recreates a healthily flushed look, like you've spent a long, happy day outdoors. "It can be very useful if, like me, you have matte skin that can turn 'olive' and a little dull in winter," she says. "If you apply blush to your cheeks when your complexion is dull, this can create a contrast that's too harsh and not very natural-looking."
While powder is prominent in the new foundation, it's not powdery. Thanks to added ingredients like argan oil, Violette says it's suitable for those with dry skin like hers. "Perfecting powders are integrated into the formula to instantly create a flawless yet unbelievably natural luminous matte finish," she explains.
The French girl aesthetic and proverbial allure hasn't waned a bit since the Terracotta powder's original release in the '80s — if anything, it's gotten stronger with social media. Fortunately, according to Violette, French girl makeup is one of the easiest aspects of the vibe to recreate. "Makeup is not like hairstyling, where you have to be very precise and very technical in the different steps, using very specific tools," she tells TZR. "Makeup should be applied by instinct, without pre-established rules. You can spread foundation over the whole face, like a veil that evens out the complexion, or apply it in little touches like I do, under the eyes or on darker areas." Violette says she never applies a full face of foundation from the jump, instead employing a finger-applied "tap and zone" technique that starts at the center of the face. "Continue tapping as the warmth from your fingers will fuse the foundation to your skin. If you want a little more coverage, you can go in with the Kabuki brush from Guerlain and blend outwards for a unified and natural complexion."
Though it's not an outright rule, Violette says her top tip is to skip foundation on the nose altogether. A tiny bit brushed on with a fingertip to subvert redness is one thing, she explains, but by leaving the very center of your face bare, it creates an illusion that you're not wearing anything at all. Regardless of if you're after that barely-there look or a full face of color, Guerlain's latest launch can (literally) cover it all.