Erykah Badu & Her Daughter Puma Are Entering A New Style Era Together
Fashion runs in the family.
Sergio Cattivelli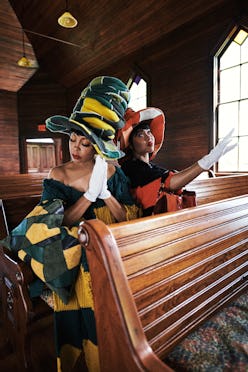 The rapid, ceaseless nature of the news cycle in our current digital environment means that a total phenomenon can rise out of nowhere, become a cultural force overnight, and wash away into irrelevance just as quickly. So, how exactly does one create staying power? Erykah Badu may have cracked the code. The neo-soul icon has spawned work so memorable that she can pull off touring the same music for nearly a decade (and does: she'll see fans next with Mos Def this summer at their "Unfollow Me" tour) but also gamely rises to new challenges, like crafting a concert streaming service to scratch that live performance itch during the pandemic (titled "Badubatron"), and launching That Badu, her venture into the booming cannabis business as laws criminalizing the plant ease across the nation. Her latest swing is equal parts vintage Badu and brand new: a collaboration with luxury fashion label Marni that draws upon her own storied eclectic aesthetic.
"The inspiration was silhouettes — it started with my 1997 silhouette, the towering head wrap and patchwork materials, patches and pieces and homemade things, because I didn't work in fashion a lot," Badu says over Zoom on a rainy Sunday in NYC. "I didn't really even know a lot of designers. I worked with people I knew and creatives and designers that were young and upcoming and could help me to see my vision through, or for me to be a muse for their creation."
Given her rather unimpeachable status as a style superstar, it's oddly surprising to consider that the Grammy winner has only recently officially delved into the world of high-fashion design. While she helped Kerby Jean-Raymond style his Pyer Moss show in 2016 and has been the mastermind behind her own legendary looks for ages, her runway debut came last year for Vogue World in November, where she sauntered down New York's West 13th Street clad in Bode, CDLM, and ERL. As she prepares to put her Marni x Erykah Badu collection into the world — right after an appearance at the Met Gala, no less — the singer-songwriter is feeling as raw and open as ever. She has no methodological breakdown to offer when asked about the longevity that's seen her through from her explosion onto the scene with Baduizm in 1997 to today.
Erykah (left) and Puma (right) in the campaign for the singer's Marni collection.Sergio Cattivelli
"I don't know, I'm living in right now," the artist says. "I'm new to me." The Marni collaboration serves as a way to allow Badu to flex her creative muscles but also to introduce the wider sartorial world to daughter Puma Curry, who stars in the campaign. The 18-year-old can be seen across the interwebs twinning with her mom and belting R&B tunes, eyes closed as she summons the notes. (Curry comes off as quite humble, but her mother is proud to sing her praises and quick to note her daughter's gift of perfect pitch.)
Curry has been her mom's personal assistant for over a year — which is really no small job. Per the March 2023 Vogue cover story, the shoot for which captured Badu and Curry looking regal (and almost uncannily alike) on the beach, her role entails seeing that her mom has things like the "15 to 20 trunks of clothing and accessories she needs on tour." ("Pack light!") Though much of her work has been in the periphery helping manage the behind-the-scenes goings-on of a deeply established, globally revered musician, she's ready to step into the spotlight. She sees this year's Met Gala — which she attended for the first time with her mother — as something of a debut.
"I'm anxious, like nervous energy, but it's good!" Curry says on a call the day before the big night. On the night of the event, no anxiety was captured in press snaps or on Instagram posts. She wore a Marni design: a blend of Carnival costume and flapper girl chic, the skin-bearing pink and white ensemble featured a bra top, strings of swinging crystals, and a headpiece with beads dripping halfway down her face. Curry's social posts show her having a ball alongside her mom, who looked quintessentially Erykah Badu in a Lagerfeld-white wig, a floor-length shaman-esque white gown, and funky platforms. "It's good. If you never get nervous, that means you don't care enough. I'm glad that I have the opportunity to be able to do it with my mom." Curry says her mother's fashion sense has been formative, impacting her own aesthetic and her attitude around clothes. "I would describe [my mom's] style as very memorable, iconic, creative, and very personal to her," Curry explains. "It's definitely influenced me a lot. She's shown me how putting together different silhouettes, fabrics, and layers can ultimately change a look and level it up a little bit."
That influence goes both ways; Badu says her daughter's liberated approach to constructing looks inspires her. "Puma is supremely free," Badu says. "There's no ceiling on how she feels about what she's wearing, and that's very important; she feels herself and good in whatever she has on."
Having grown up in the context of her superstardom and also through working on Badu's team, Curry knows her mother wears many hats. The musician-slash-mogul is so accomplished it seems difficult for her daughter to even single out the moments at which she's found herself most proud. Curry settles on a good recent one: the April 29 press preview for Marni x Erykah Badu at the boutique's SoHo location, which counted plenty of NYC's fashion elite as attendees as well as celebs like Tracee Ellis Ross and Badu collaborator Teyana Taylor. To set the scene: drinks are served, photos are taken, a DJ is bumping music (loud: it's a party), and clothing of all different colors and textures line the racks. Patchwork suede coats, twilight blue and purple knit sweaters, and button-front shirts with multicolored brushstrokes give the store the appearance of an art gallery.
"I know it's her first line, and it's been a long time coming," Curry says, reflecting on the evening. "I know this is something that she's always wanted, and she works very hard all the time. I feel like every step, it's a little win. There's a lot of things that make me proud of her. And I think [this Saturday] was just another step towards being even more great."
Though Badu has admired the Marni brand for a long time, Francesco Risso's tenure as creative director pulled her further in. "In 2016, it took a psychedelic turn when Francesco came into the creative director's seat, and I just started really loving the layers and could really relate to it," Badu says. "Francesco wanted me to go with him to [last year's] Met Ball. We didn't know each other, but through a mutual friend, they connected us and we went together. When we were on the red carpet, he turned to me and said, 'Do you want to do a line together? Do you want to work together?' And I was like, 'Yeah.'" On the steps of the Metropolitan Museum of Art, Badu the designer was taking shape — but, just as her daughter says, the Marni collab was years in the making. The voluminous headwear, the pieced-together fabrics, the "hobo chic of fashion," as the vocalist calls it, are taken from her own ensembles over time.
Curry knows she's fortunate to have access to what we must assume from the outside is a world-class wardrobe, with Badu's eye for funky, well-curated layers and her flair for the dramatic. She's enjoyed playing in her mom's closet, modeling Badu's pieces for Marni, and of course, highly anticipates their Met Gala joint slay despite any lingering nerves. (And slay they did. A bathroom selfie on Curry's Instagram memorialized what looked to be a good time posing for her own camera, a fun, casual capture of what can feel like a super-serious, uber-formal affair.) Certainly a passion for fashion has brought them together, Curry says. But whether it's with clothing, business endeavors, or musical artistry, the example Badu has set for her daughter is that exploration is to be encouraged. Curry says she's dabbling in a few different fields and is in no rush to have it all figured out, working on modeling campaigns, her music, and songwriting for the time being, still in the process of "learning my voice, learning my sound … I don't know anything yet, so I'm just going the way the wind takes me, honestly."
That fearlessness to experiment and play is part of what's kept her mother relevant for the masses over the years. Badu's dauntlessness to create a daring silhouette, to patch together a bold new print (and wear her custom design to the 1999 Grammys, no less), to launch a business in a market she's never stepped foot in, and continue to pioneer in the music industry is what makes her so singular. Taking on a collaboration like her new collection with Marni is a bit of a pivot, but her excitement for welcoming the new, fringe, or unfamiliar is part of that authentic Badu free spirit that keeps fans coming back, no matter what it is she's working on.
"As a creative and an artist who's sensitive about their sh*t, learning to co-create where it's been by myself a long time is just refreshing," she says. "[I'm] kind of grateful to have an opportunity to grow."