Emma Watson's New Gin Brand Renais Is A Love Letter To Her Family & Upbringing
Edward Berthelot/Getty Images Entertainment/Getty Images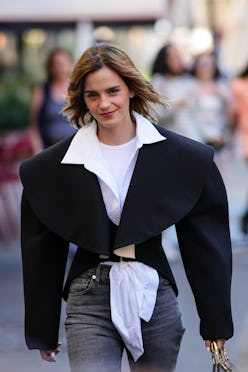 These days, it seems celebrities are entering the alcohol and spirits world almost as frequently as the beauty industry. Between Kate Hudson's King St. Vodka and Kendall Jenner's 818 Tequila, there's no stone (or liquor) left unturned by a high-profile A-lister ... until now. Yes, Emma Watson is the latest celebrity to get in on the action, announcing the upcoming carbon-neutral gin brand, Renais, which she is launching with her brother Alex Watson.
In a recent Instagram post, the Harry Potter star announced her new venture, explaining it as "an ode to the sun-kissed vineyards of Chablis where my family has been making wine these past 30 years. Renais Gin is our love letter to Chablis; a carbon-neutral product, lovingly made from upcycled wine grapes."
Indeed, the Watson family has deep roots in the spirits world. Emma and Alex's father Chris Watson is an celebrated wine-maker and "the only Englishman to have been made a pilier of Chablis — an honor bestowed on those crafting exemplary expressions of Chablis wine and safeguarding the interests of the region," according to the Renais site. Alex, for his part, inherited his father's love for the spirits industry, previously working in marketing for drinks giant Diageo. "It was my dream job," Alex told the Financial Times. "But I think that once you have an idea like Renais, you can't un-have it."
According to his interview with the publication, Alex's great plan for Renais involved repurposing discarded grape skins used in the wine-making process for the botanical notes to flavor the gin. Now, for context, the Chablis vineyard Renais uses for this is one of seven in the region, not to mention the only one that utilizes organic farming methods. Also, the window in which these discarded grape skins are available is only two weeks out of the whole year — yes, you heard that right. "It's almost as difficult a way to do it as possible," Alex said to Financial Times, "but it's absolutely worth it."
The grapes used for the alcohol are sourced from vineyards in Burgundy; the liquor is made in Beaujolais then sent to England where it is combined and distilled with the botanicals and additional flavors (lime slices, rock salt, kimmeridgian stone, lemon peel, juniper berries, and coriander seeds to name a few). The upcycling process and final product are designed to signal a rebirth of the winemaking traditions in Burgundy, hence the name Renais.
And while Alex may be the mastermind behind the process, Emma has taken the reins on the more creative side of things, including brand imagery and design. "I couldn't bear to let someone else do it because it's our family, our history," she says. "We have to sell a product but I think it would have hurt my soul if it had been done in a way that didn't feel personal."
Renais gin is now available for purchase on its UK website.