Christina Aguilera Just Launched A Line Of Personal Lubricants
Courtesy of Playground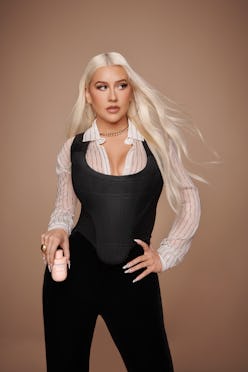 We may receive a portion of sales if you purchase a product through a link in this article.
Now that she's charted the music, film, and television industries, Christina Aguilera is ready to conquer a new frontier: the sexual wellness space. Yes, today, the singer announced the launch of her new sexual health brand Playground, of which she is co-founder (alongside CEO Catherine Magee and Chief Product Officer Sandy Vukovic) and chief brand advisor. The label aims to create "good-for-you pleasure essentials intentionally designed for women," according to an official press release.
While the business side of things may be new for Aguilera, advocating for women's sexuality is certainly not. Since the early 2000s, the star has been vocal in her stance for female empowerment and the embracing of one's authentic sexual self (remember her 2002 album Stripped and the sensual, girl-power-themed videos that came from it, like 'Dirrty' and 'Can't Hold Us Down'?). So this latest move isn't exactly coming out of nowhere, if anything it's a natural progression of Aguilera's interest and passion.
"This has been a lifelong journey for me, something that I've always been super comfortable about, talking about sexuality, embracing and owning, what that means to you as a woman" says Aguilera in a Zoom conference call. "Everything from my music to specific conversations that I've grown up [having], and sometimes having to defend. As women, we are sometimes force fed a specific idea of what women's sexuality should be. And this is why I was so drawn to Playground in the first place. Even the products that [are made for women] are made by men."
For context, Playground's inaugural lineup of four personal lubricants are specifically designed to encourage women to view intercourse and foreplay as a safe and healthy component in their overall wellness routine. Each formula includes "biotech formulations and chemistry-enhancing" ingredients like ashwagandha, horny goat weed, black cohosh, and fermented bamboo extract. As for marketing, names like "After Hours," "Date Night," "Mini Escape," and "Love Sesh" as well as the playful pastel packaging aim to lift any and all shame and/or taboos surrounding sexual wellness products.
"It's something you don't feel weird about putting on your nightstand or checking out at the grocery store," says Aguilera. "Also, I want to do things that I can pass down to my daughter as a mother and make her feel good about her body and break the stigma of making daughters feel weird about talking [about sexuality] or asking questions. Anyway, the more I can open up the conversation and push feeling safe and good about your body and overall wellness, [the better]."
Playground's new offerings are now available at helloplayground.com and select retailers. Shop the full lineup below: