Angelina Jolie & Gabriela Heart Is The Design Duo We Didn't Know We Needed
We're so ready for this collection.
Courtesy Of Chloé x Atelier Jolie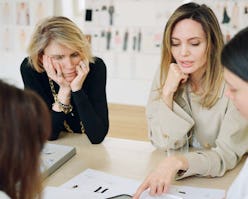 In case you missed it last month, Angelina Jolie announced via Instagram that she's debuting a sustainability-focused fashion label, Atelier Jolie, next fall. The company aims to be a destination for creatives to collaborate with artisans, pattern makers, and tailors worldwide. In fact, the Oscar-winning actor is already joining forces with one of the fashion industry's biggest players — enter the Chloé and Atelier Jolie collection, an exclusive womenswear assortment of ready-to-wear looks. While details are still sparse, we're breaking down everything we know about the exciting partnership thus far.
According to the press release, the product assortment will be co-designed by Jolie and Gabriela Hearst, Chloé's creative director. What's more, the capsule collection, which hones in on evening wear with a timeless aesthetic, "honors both brands' respective commitments to improving social and environmental sustainability with greater transparency and accountability," the statement continued. (As for how the two labels will carry this message out remains to be seen.)
Hearst, who is exiting Chloé following the Spring/Summer 2024 season, immediately took notice of Jolie's goals and believed in Atelier Jolie from the get-go. "It is a way to elevate others through the beauty of garment-making and her deep respect for the environment," the creative director said in the press release about the actor's new fashion label. "It's an honor for me that Chloé will be the first collaborator for Atelier Jolie, as both have high ideals for the betterment of our species."
Jolie, too, felt this inaugural partnership was a fitting first choice for her highly-anticipated label. That's because Chloé is a certified B Corp, a designation that means a business is meeting the high standards of positive social and environmental impact, which is of the utmost importance to the humanitarian. The French fashion house was the very first luxury Maison to earn the rigorous certification in 2021.
"It has been a privilege to design with Gabriela Hearst, and I hope all women will feel comfortable and beautiful in this capsule collection," Jolie said in the press release. "My earnings from this collaboration will be invested in establishing apprenticeships for tailors and artisans at Atelier Jolie."
There's no official release date yet for the collection, but make sure to check back here, as we'll update this post once we hear when it's slated drop.