Are Celebrity-Owned Tea Companies The Latest Beverage Craze?
Kate Moss and Brad Pitt are leading the charge.
@cosmoss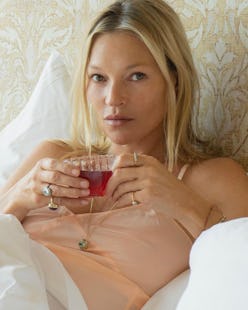 We may receive a portion of sales if you purchase a product through a link in this article.
We've heard about celebrity supplement and smoothie companies (Halle Berry, Kate Hudson, Jennifer Aniston), their wine and liquor labels (Sarah Jessica Parker, Cameron Diaz, Jennifer Lopez) and zero-proof libation brands (Blake Lively, Katy Perry). But did you know there are a number of A-listers peddling tea?
And it makes sense if you consider the simple facts. For starters, tea ticks a lot of wellness boxes, a highly buzzy and ever-growing sector at the moment. "Some health benefits [of tea] include a boost to your metabolism, support for digestive health, and strengthening of your immune system," says chef and nutritionist Mareya Ibrahim. "Kombucha and mate teas have probiotic benefits for a healthy gut. And it's also a wonderful ritual because it forces us to take time to stop each day, reset and take in life."
For some celebrities, getting into the tea game — by founding or investing — is attractives because of the health aspects; for others, it's simply a wise business move. After water, tea is the most-consumed beverage in the world (sorry, coffee), and has been for centuries. And it continues to grow. Adds Ibrahim: "Tea is so hot right now — and so expansive in terms of ingredients, flavors and health benefits."
Ahead we spill the tea on the celebrities investing in the brew business. See if one might just be your perfect cup.
Cosmoss: Kate Moss
Though the model's Cosmoss line is mostly centered on skin care, she also sells two teas: Uplifting Morning Tea, with energizing hibiscus flower and nettle leaf; and Calming Evening Tea, with chamomile and butterfly pea flowers, beloved for their de-stressing properties. Moss says on the brand's site that making a cup is one of the first things she does every morning.
MatchaBar: Drake
OK, so the singer is only an investor, not the actual man behind the matcha (that honor belongs to brothers Max and Graham Fortgang). But Drake was such a believer in the green tea brand, which sells powders and bottled beverages at Whole Foods, that he is one of the primary investors. (Diplo and NFL star Von Miller are reputed investors of the brand as well.)
What is matcha exactly? It comes from the same plant as green tea, but is grown in a way that increases its amino acid content. It's also made from the entire leaf, stems and all, which translates to more antioxidants and caffeine. Studies show it can help prevent certain cancers, lower inflammation, and improve cardiovascular health. If you haven't already, it's time to meet your matcha.
Welle: Elle MacPherson
The Sleep Welle Calming Tea, one of the offerings in the model's supplement line, uses herbs like valerian and notes of lemon and mango to promote relaxation. The Aussie says on the brand's site that she makes a cup at the end of the day to wind down.
Enroot Cold Brew Tea: Brad Pitt
Along with friends Christina Patwa and John Fogelman, the Academy-Award winner helped create this sparkling tea brand that offers the likes of Strawberry Lavender Tulsi and Peach Hibiscus Jasmine Green Tea. The teas, made by James Beard Foundation chefs, are organic, low-carb and low-cal, vegan, kosher, and made in small batches in Santa Cruz, CA. They are best served cold or over ice.
Apple Tea: Kourtney Kardashian
Disclaimer: This option is not an actual tea brand but rather a recipe Kardashian learned from her baby nurse. And it has plenty of fans, including little sis Kendall Jenner. So why isn't she packaging it? Well, she did have Apple Pie Dream of Me Collagen Tea available on Poosh a few years back, but not any longer. Ms. Barker also sells a matcha supplement through her brand Lemme, so it wouldn't be farfetched to expect a packaged tea from the reality star in the near future.