Watch As Rosie Huntington-Whiteley Joins Fashionably Late With Rachel Zoe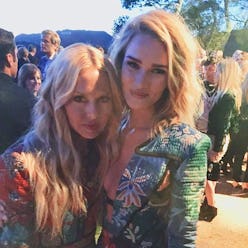 If you had to envision the world's most preternaturally gorgeous human being, who would it be? Rosie Huntington-Whiteley? Yep, us too. We're all in luck: The sweet supermodel is the next guest star on Fashionably Late with Rachel Zoe, which promises all the makings for the chicest episode yet. Watch as RZ, Derek and Rodger discuss the week's buzziest style and pop culture moments with the enviable It girl—who knows, maybe she'll even spill some tips on how she looks so insanely good all the time. Tune in for late night's most fashionable TV show on October 15th at 10:30pm on Lifetime, immediately following Project Runway.
Have questions for Rosie and Rachel? Comment below and they might be answered on air this Thursday night!
Catch up on all the most recent Fashionably Late with Rachel Zoe clips right here: