Women of Style: Raquel Allegra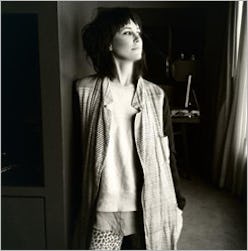 When we launched the Women of Style series earlier this summer I knew right away that I wanted to introduce you to my friend, Raquel Allegra. Her unique point of view in the fashion space, distinct brand identity, and unconventional rise to success – she started her line with t-shirts recycled from the Los Angeles County Jail – coupled with her incredible work ethic and unbelievably cool sense of style make her one of my favorite people in this business. Raquel's clothing line is known for its effortless shapes and paper-thin, sometimes hand-shredded fabrics and while that aesthetic lends itself to off-duty occasions, her pieces are also polished enough for the office or a cocktail party (just look at the lace number Cate Blanchett wore to the premiere of Blue Jasmine for proof of that). Get to know and love Raquel in today's Q&A… —Mandana Dayani
The story of how her line came to be… "In the VERY beginning, 8 or 9 years ago, I was reworking vintage tees, deconstructing and reconstructing them just to satisfy my own creative impulses. And just to wear myself. In a way, this is really how I promoted what I was making. Even though I had no intention of ever selling anything I made. People started asking if I'd sell my tees, and I started literally selling them off my back. Fast forward three or so years and I was selling to Maxfield, Curve, Fred Segal, and a few other stores. I met my now business partner through a mutual friend and we began to develop a small collection based on some of the original pieces I'd made and held onto. In the beginning our plan was loose. I had never created a collection before or actually designed a garment from 'scratch'. So we took our time and allowed the collection to unfold and grow in a natural and organic way."
On searching for vintage tees at the L.A. Country Jail (we had to ask)… "Imagine hunting for the perfect vintage tee in a dank corner of a 100,000 square foot warehouse. I would spend hours sorting through an 1,000 pound bail of them, looking for the best ones. I grew obsessed, and I still have a huge collection locked away. My natural reaction back then was to transform each one from something forgotten into something beautiful."
Photo: Courtesy
The most exciting milestones for her company… "We've had some really exciting moments already but I feel the biggest are still to come. I still get excited seeing people wear pieces from the collection."
What people don't know about designing a clothing line… "That it takes a village. When it was just me, I would hand shred pieces for hours at a time. I was my only employee. You can't do everything yourself for very long, so hopefully you meet really great people along the way that share your passion."
What she looks for in an employee… "My team is like my family. We spend more time with each other than with anyone else in our lives. The company is still small, there are four of us on my immediate design team and about thirty core employees. Another twenty or so come and go as production needs ebb and flow. Of course the skill set is always important, but I find it equally important that my staff be lighthearted, kind, loyal people who are interested in contributing to something greater than themselves. Fashion is a tough racket. If you don't LOVE it, you won't survive."
Pieces from Raquel's holiday collection. Clockwise from left: Shibori Dye-Effect Top, $285; Belted Dress, $550; Marble Stripe Pullover, $525; Abstract Dyed Dress (available in red), $555.
How she plans to grow her company… "I've always wanted to do more tees for guys, so that's coming up. My men's tees incorporate deconstruction as well as an experimental take on tie-dye; they're for the modern bohemian man. Guys have been asking me for them from the beginning and we've been offering a limited selection every season for the last three years. I think the market is finally ready for a little more of what we do. As far as other projects go, further on down the road maybe I'll open a beautiful store somewhere close to home."
How to stay true to your vision… "My creative process is very personal and I've never been very 'trendy' so it's usually pretty accidental when I hit something on-trend – or maybe I'm just tapping into the collective subconscious."
Postcards of the holiday collection via @raquelallegrastudio.
The best career advice she's ever received… "That there is no right way to get where you want to go, just a right way for you. Follow your bliss."
Her muses and inspirations… "Cate Blanchett, PJ Harvey, Kate Moss are all stunning. Inspiration comes from whatever I've surrounded myself with at the time. For the spring collection I was drawn to Australian Aboriginal artist Dorothy Napangardi's paintings."
Kate Moss inspiration via @raquelallegrastudio
What to wear on a job interview… "My personal style is pretty varied, different looks for different moods. Coming dressed in your own style is probably best. I'd wear Wonderwood by Comme des Garcons. It's my favorite scent."
How she shops for personal items… "I do all of my shopping in stores. Mostly Sunday mornings at the various flea markets in and around LA. I'm an avid treasure hunter."
On her fall shopping list… "Ann Demeulemeester combat boots. That's it! I'm a simple girl."
The piece of clothing every woman should have in her wardrobe… "Cashmere sweaters."
Raquel's picks: Cashmere sweater, Ann Demeulemeester combat boots, Comme Des Garcons Wonderwood Eau De Parfum.
Her beauty staples… "Bionic Cream and Juno Oil from Sunday Riley. My skin loves these products. I was introduced to them by my girl Ana in the cosmetic department at BNY. I can't imagine using anything else now. My skin finally met its match."
How she recovers from a long day at work… "On a sheepskin yoga mat for Kundalini practice."
Sunday Riley Juno Bionic Anti-Aging Serum, $225; Body Lipid Serum, $105.