Queen Elizabeth Might Not Attend Prince Harry And Meghan Markle's Wedding—Here's Why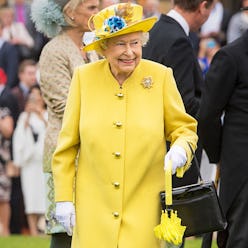 Following the news of Prince Harry and Meghan Markle's engagement, much speculation has already been given to the soon-to-be bride's wedding dress, venue (we finally know!) and guest list. The most notable attendee? Queen Elizabeth, of course—that is, if she plans to attend at all.
Despite giving her blessing to the lovely couple, it remains uncertain whether the British monarch will make an appearance at the royal wedding. Among her many titles, the Queen is also the head of the Church of England, a position that regards marriage as a lifetime bond. It's important to note, considering Meghan was previously wed to film producer Trevor Engelson, making her nuptials to Harry her second.
Should the Queen skip the ceremony—even though Harry is her grandson—it wouldn't be the first time she chose duty over family expectations, particularly due to divorce. Although she attended the reception, the Queen famously missed son Prince Charles' wedding to Camilla Parker-Bowles in 2005, with both parties already having a first marriage. "I am not able to go," she reportedly explained then. "I do not feel that my position [as Supreme Governor of the Church] permits it."
Clearly the Queen takes her royal and religious roles seriously—and we wouldn't be too surprised if her decision stayed put for Meghan and Harry's wedding come May.