A Princess Diana Documentary Is Coming To HBO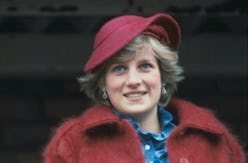 This August marks the 20th anniversary of Princess Diana's death. To honor her legacy, HBO has secured the rights to a new documentary about her life.
The Hollywood Reporter calls the forthcoming doc a "landmark." Nick Kent, the executive producer, said it will "show Princess Diana in a way she has never been seen before, through the eyes of the two people who knew her best." Yep, Princess Diana's two sons—Prince William, the Duke of Cambridge, and Prince Harry—are said to be the primary subjects of the project, giving rare interviews about their mother's humanitarian efforts, philanthropy and candid anecdotes on how she shaped them as individuals. It's said that other friends and family members, many of whom have not publicly spoken on the subject, will be featured alongside rare archival footage.
HBO's documentary, which is due out later this year, is just one of a handful of upcoming Princess Diana projects. ABC is airing its first of two Diana specials on Sunday, May 7, at 9pm ET, which will examine the last 100 days of the princess' life. The second, a two-night, four-hour telecast produced in part by People, will air in August. Finally, following the success of Feud's premiere season, Ryan Murphy will focus the second season of the drama on Princess Diana and her ex-husband, Charles, Prince of Wales, to air in 2018.
More from Nylon:
Is 'Casting JonBenet' The Final Word On The Infamous Case?
The Rise Of The Female Vigilante In Pop Culture