Prince William Had A Very Real Dad Moment When Talking About Princess Charlotte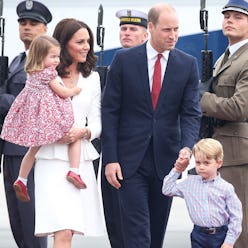 It's not easy being a royal—and it's definitely not any easier being a parent. But Prince William seems to be handling things just fine, particularly during one of the busiest seasons for the royals. With the announcement of Kate Middleton's third pregnancy and Prince George attending his first day of school, the Duke of Cambridge could only describe the past week as "interesting" yet managed to take time at the Aintree University Hospital in Liverpool yesterday to joke about his family life.
Sharing stories about his son's orientation at Thomas' Battersea, William remarked, "George has been really easy. He hasn't said, 'Have I got to do this for the rest of my life?' We are all seeing how long that lasts before he doesn't want to go." But it was what he said about Princess Charlotte that had us nodding in agreement. "George rules the roost, but Charlotte isn't far behind," he reportedly told one patient. "I think she's going to be trouble when she's older," he added to another. "All fathers say that." We're sure parents everywhere share the sentiment, but this one rings particularly true as Kate herself has already once acknowledged her daughter wears the royal family pants. Only time will tell if the little princess lives up to her mischief-making reputation.