Meghan Markle And Prince Harry Just Opened Their Wedding To The Public
Getty Images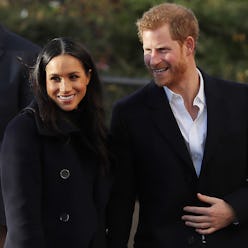 If you thought the wedding of Meghan Markle and Prince Harry couldn't get any buzzier, think again. Kensington Palace has announced that the couple plans to invite 2,500 additional guests to Windsor Castle on the day of their nuptials in order to include a wider swath of people in the celebration.
The actual ceremony will take place at St. George's Chapel, which can "only" accommodate 800 people, so this expanded list will allow others to come and watch the couple, their family members (Kate!) and other guests arrive and depart from the chapel. According to Kensington Palace, 1,200 of these guests will be UK citizens nominated to attend by the Queen's representatives, and they will largely be those who are leaders in or have otherwise served their communities. An additional 200 guests will be connected to the charities with which the couple works while another 100 will be children from local schools. Finally, those who work on the royal grounds—610 of them, to be exact—will also be included in this way as will 500+ members of the Royal Household and the Crown Estate.
If you're a fan of The Crown, you may know that the royals have not always been so accessible. This significant move toward greater inclusivity speaks to the spirit of this younger generation. "This wedding, like all weddings, will be a moment of fun and joy that will reflect the characters and values of the bride and groom," a press release from Kensington Palace said. Indeed, inviting 2,500 do-good-ing commoners to attend their wedding feels perfectly on brand for these two down-to-earth lovebirds.